June 23 2014
2
23
/

06
/

June
/

2014
18:21
Okay, I don't have to be told how erratic and infrequent my blogposts have been. But I hope that the following explanation will offer an excuse worthy of a blessing.

Over the last 3 months or so, I've been developing a project to import & distribute wines from a few of the wonderful small family estates that I've come to know in Languedoc-Roussillon. The main incentive would be the introduction of these high-quality, natural and authentic wines to local wine lovers - especially those interested in unique wines from lesser-known regions. I.e. this is by no means a big money-making project for me, rather an opportunity to provide exposure to some passionate wine growers who truly deserve it. Obviously, at my age, there's no incentive for me to plant the seed for some "expanding project" over time - that is, I intend to start small and stay small with these 5-6 vignerons. And my hope of course is that, when I'm ready to move on, their wines will become established in our local market, so that someone would be willing to continue their importation.

While contemplating which producers to approach with my proposal, I considered the idea of choosing one estate from each of the top appellations in Languedoc-Roussillon, but after further consideration, decided it made more sense to focus on the area with which I've become most familiar - i.e Corbières/Minervois, St Chinian and Roussillon. Besides, After having discovered so many stellar examples from these terroirs, narrowing down to a list of 5-6 domaines would not be difficult. At this point I have firm plans to begin importing wines this fall from the following four estates: *Chateau de Cabriac (Corbières), Domaine Ste. Croix (Corbières), Clos Canos (Corbières) and Domaine Padié (Roussillon). Fortunately, the three Corbières estates are all located in different areas of this fairly large appellation, giving them each a unique wine style. During our annual stay in the region this month, I'll be making a decision on selecting one producer each in Minervois & St. Chinian as well - providing me with all the wine I'll need to keep this one-man operation busy for the next few years.

So I suppose this activity won't make my goal of more frequent and regular blogposts any easier (an understatement). And of course, if I am able to keep up with my Trusty Vine obligations, you won't see me reviewing or rating the wines I'll be importing, as that would be a definite conflict of interest. As you've likely noticed though, my posts have been more story-like than an attempt to rank wines from a specific area by quality level - and this will probably be my approach into the future as well.

Following are a few vignettes of the "people behind the labels" whose wines I will be representing (p.s. it should come as no surprise that all of them make excellent pure or majority carignan cuvées along with their proprietary blends).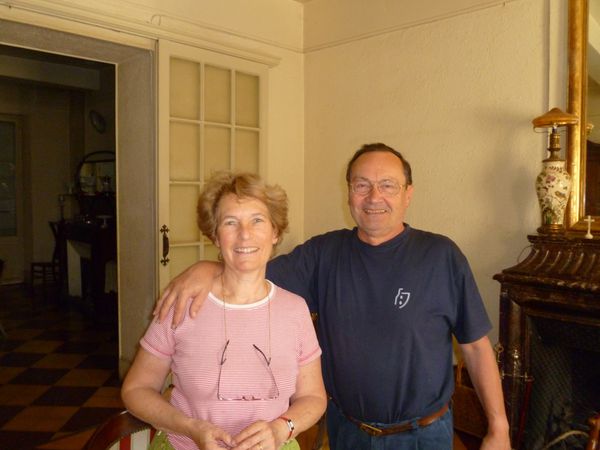 The gracious owners of Ch. de Cabriac in the village of Douzens, Corbières, Jean & Michèle de Cibeins. Their estate and vineyards are situated just downhill from Mont D'Alaric, in the northwest part of Corbières.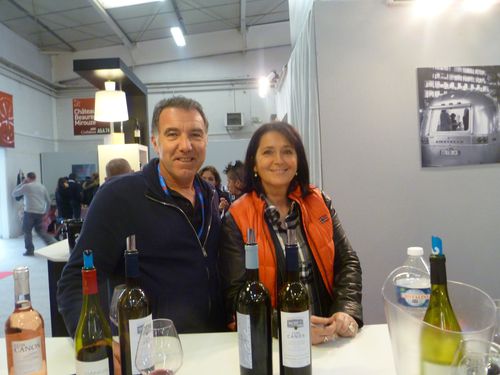 Pierre Galinier and his lovely wife, Françoise Castel, pouring wines from their estate, Clos Canos at the recent ViniSud event in Montpellier. Their cellars and vineyards are located in the village of Luc-sur-Orbieu. This is near the center of the appellation, and within the separate sub-appellation of Boutenac.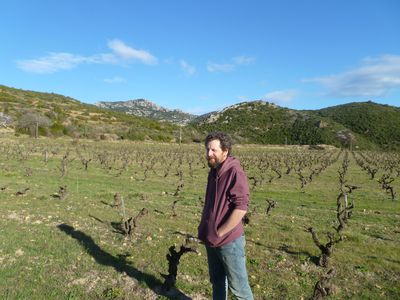 Jon Bowen, surrounded by the well-aged vines of Domaine Ste Croix in the village of Fraissé, Corbières - which is in the higher elevation region of southwest Corbières. Jon and his wife Elizabeth, are British transplants, and passionate supporters of the "Carignan Rennaissance" movement in S. France, as well as meticulous natural wine adherents.
Another strong adherent of natural wine production, Jean-Philippe Padié, here in his cellar in the village of Calce, Rousillon. Only a 25-30 min. drive south from Jon & Elizabeth Bowen. Jean-Philippe is somewhat of an iconoclast, in that he is less concerned about the appellation guidelines as he is about making great and authentic wine - regardless of the grape blend.
Well, tomorrow it's off to our beloved Narbonne area. After which I'll have no shortage of material to share in future posts (if I can just kick myself in the derrière to deliver!). In the meantime...........
BON ÉTÉ!
Russ
* winery websites:
http://www.domainepadie.com/
http://www.chateau-de-cabriac.com/index.en.htm
http://www.saintecroixvins.com/
https://www.facebook.com/pages/CLOS-CANOS/323381507767334