January 14 2013
2
14
/

01
/

January
/

2013
19:49
My first true "carignan epiphany" occurred in July of 2000 while visiting the highly regarded little domain of Jérôme Bressy, Domaine Gourt de Mautens, in the southern Rhone village of Rasteau. While tasting in his cellar, Jérôme drew an intensely dark red from one of the barrels for me to sample. I was taken aback by the incredible richness, structure and depth of fruit, as well as the rustic yet subtle style of the wine. When he told me that I was drinking carignan from the estate's oldest vines, I was shocked, realizing that this wine was easily capable of being bottled without blending - a truly stellar stand-alone. Another 11 years passed before I would come to realize the great potential of pure & majority carignan cuvees - this thanks to my numerous escapades in Languedoc-Roussillon with friend and connoisseur extraordinaire, Michel Smith (aka "Monsieur Carignan") beginning in 2011. So I felt that it was high time I write a little article on this misunderstood, and often maligned grape variety.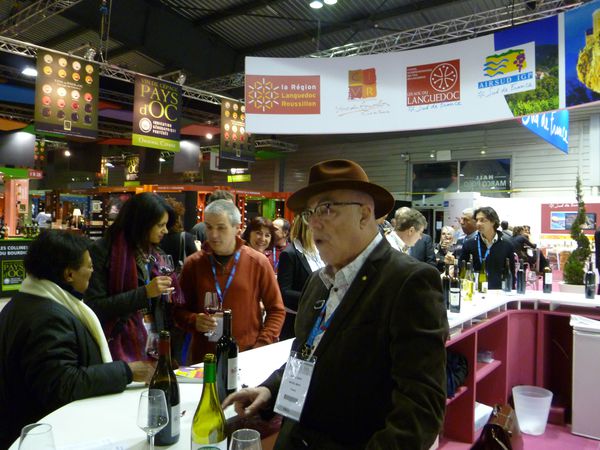 Michel Smith, Holding Forth at an All Carignan Tasting, Vinisud 2012 Montpellier
Carignan has been around for centuries, yet only in recent times has it slowly begun to garner serious accolades for its undeniably unique and authentic wines. These wines of course are not noteworthy simply by virtue of being produced from carignan - i.e. carignan is not considered by many wine authorities or ampelographers as a noble grape - but rather due to a meticulous effort by growers to limit its crop, and source the fruit from older vines in the best possible vineyard sites. Carignan's misunderstood status stems largely from the nasty reputation it attained as the staple variety for the mediocre plonk emanating from the Languedoc region in the 19th up to the end of the 20th century. Because the region was more or less designated by the French market as France's cheap wine source, the growers & producers there seemed to oblige by keeping their carignan crop levels astronomically high (up to 10 tons/acre!) - the thinking of that era: with cheap wine, more is better.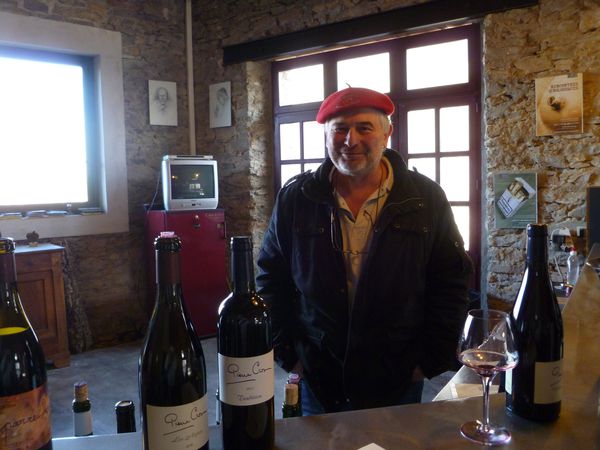 The Old Rugby star, Pierre Cros, in his "new" element
A little background: the carignan grape is said to have originated in the village of its Spanish namesake, Cariñena, in the Aragon region of Spain. Interestingly though, it has virtually disappeared from Spanish vineyards today. Having made its way into the neighboring Catalan and Languedoc regions of France by the 12th century, it seemed to find conditions to its liking throughout the Mediterranean area of France. It currently accounts for around 100,000 ha (247,000 acres) of vines (almost exclusively in Languedoc-Roussillon and Southern Rhone Valley) vying with merlot as the most widely planted variety in France. As a late-ripening variety, this vine is ideally suited to the warmest sub-regions of the L-R, and makes its most exemplary wines when planted on dry shallow & rocky soils. It is also tends to grow very upright, making it resilient in the face of the oft intense Tramontane winds out of the Pyrenees, even when planted without trellising.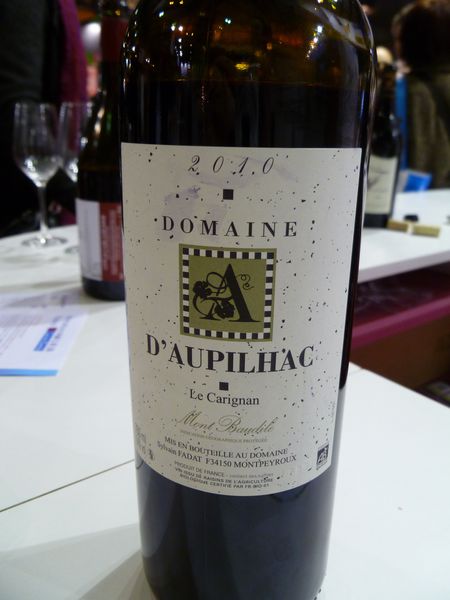 A Noble Offering from M. Sylvain Fadat
It wasn't until the 1990's that vignerons began to realize the high-quality potential of the variety, primarily as a result of severely diminishing the crop level per vine and focusing on the use of predominantly older vines for their cuvees. Unfortunately for carignan growers & enthusiasts, most all of the appellations in Languedoc-Roussillon wrote their rules for allowed percentages of approved varieties in red blends at a time when carignan was in disfavor. Thus all these appellations have limits (50% or less) on the proportion of carignan that can be used in blends, using the appellation designation. Only Roussillon allows more in their blends, i.e. 60%. Exceeding these proportions requires the wine to be declassified to "Vin de Pays", or "country wine" status. On the other hand, enough of a following has developed recently among consumers for well-made carignan, that this declassification doesn't necessarily mean the producer has to lower the bottle price accordingly, and some producers, esp. in Roussillon, even market their pure carignan bottlings as their top-of-the-line cuvees.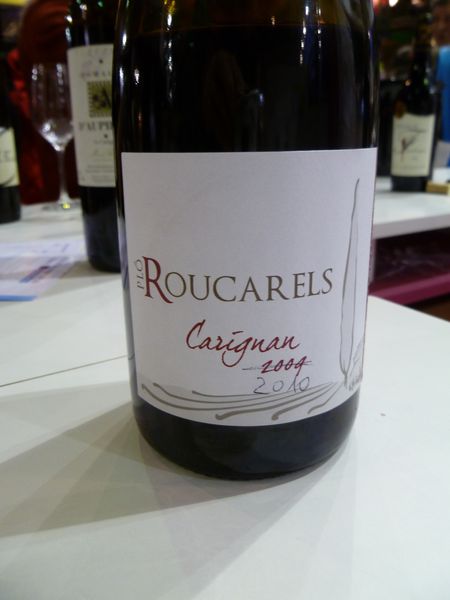 Due to carignan's tendency to produce wines with quite high acidity and tannin levels, vintners have found that vinifying the grape using the carbonic maceration method (natural fermentation of whole clusters without crushing) yields a more harmonious wine with softer tannins. Alternatively, carignan is fermented conventionally with crushing and total de-stemming, to avoid the sometimes excessive herbaceous character of carignan's stems. The resulting style, when working with high-quality (old vine, small crop level) fruit, is one of intense rustic flavors & aromas: dust, leather, and ripe resiny notes of dried wild herbs - together in a frame of intensely dark ripe fruit, simultaneously velvety and firmly structured.
Here are some of my favorite examples from various appellations in Southern France (all of which are typical in varietal character, but with different nuances which bespeak their particular terroir):
Domaine Pierre Cros "Vieilles Vignes"(Minervois)
Domaine d'Aupilhac (Mont Baudile)
Domaine Padié "Calice" (Roussillon)
Domaine Ledogar "La Mariole" (Corbières-Boutenac)
Domaine Clavel "Le Berger" (St. Gervais, Rhone)
Plô Roucarels (Cité de Carcassonne)
Unfortunately, there isn't a wide selection of all-carignan wines in the U.S. market presently. However, when searching for good examples here, one should focus on the Rhone or Languedoc-Roussillon section of your favorite wine merchant, and if the varietal blend isn't mentioned on the back label you can usually find this information on the producer's website. Alternatively, you may find some good examples with on-line wine retailers if your state allows wine mail-order.
Happy Hunting!
Russ Raney