October 31 2013
5
31
/

10
/

October
/

2013
21:09
As a follow-up to my earlier post on carignan, this time I'm "moving the conversation" back to Oregon.

For some time, I've been wanting to expose a group of local wine buddies to what I consider the new "carignan movement" in the south of France - this, by way of a tasting of current typical versions of the wine (in this case from Languedoc-Roussillon). So I brought some bottles back with me from my last trip there in June, and added to these, a couple of solid examples available in the Oregon market, plus a California ringer for comparison.

Already having a fairly good feel for the perception of carignan wines from a French perspective, my idea behind the tasting was to get reactions from a non-French group of tasters as to the quality level and style of the wines. In the line-up, the quality range was quite limited, making it difficult (for me at least) to choose a favorite. As well, there was a fairly good concurrence of opinion on the preferences of the tasters. I made it clear up front that I was not so interested in ratings for each wine, but rather, to discuss the attributes and stylistic differences of each wine, and then have each taster try to choose their top three preferred wines. Although for most attendees it likely wouldn't have mattered if we'd poured the wines without concealing labels, having already tasted most of the wines (individually) in the recent past, however, I felt that I needed to taste them blind in order to be objective.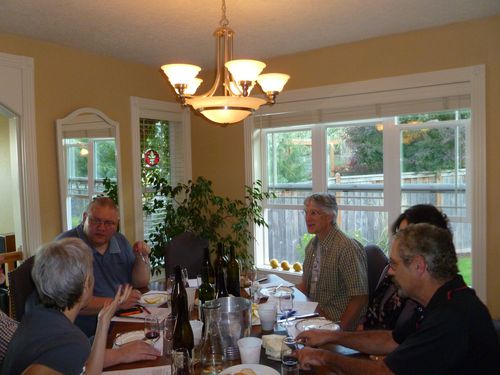 The results of the tasting preferences were somewhat surprising to me, in that the three favored wines for the whole group were what I would have predicted for a group of "veteran carignan" tasters in the south of France. All of the wines presented (except the California bottle?) were either produced from older vines and/or fairly low yields - which of course, together with the right choice of vineyard site, are factors that have brought about carignan's recent rise in popularity, even among "more serious" wine aficionados.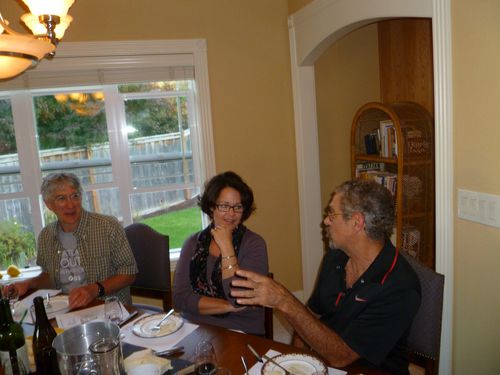 Following are the 8 wines in the order tasted, together with brief notes (my own). The top three group-preferred wines are indicated with an asterisk. I've shown the AOP sub-regions in parentheses from which each wine derives, but you should know that the (in my opinion, misguided) AOC labeling regs require a different region designation on the label because no more than 40% of carignan is permitted in blends for AOP growing regions in Languedoc-Roussillon. I should note that all of the wines below are in the 14% alc. range, which thankfully doesn't seem too overpowering for this late-ripening variety.

*Domaine La Tour Boisée (Minervois) Carignan 2012
This wine was highly lauded for its great value - retailing in Oregon for $10-11. Big dark aromatic fruit, fairly extracted yet well-balanced, with light dusty nuances and a long finish. Would be interesting to track it's aging ability.

Domaine Padié "Ciel Liquide" (Côte du Roussillon Villages) 2009 (50% carignan/50% grenache)
Okay, this was my one screw-up: I managed to grab the wrong bottle when leaving France in June - intending to bring Padié's 100% carignan cuvée, "Calice". Nevertheless, this wine's carignan character still showed amply in the aromas as well as on the palate. Quite ripe but not "fat", with brighter fruit and light tones of leather and a bit of hemp resin (my favorite carignan indicator).

Domaine Pierre Cros (Minervois) Carignan "Vieilles Vignes" 2012
Dark cherry fruit in a soft fleshy-textured wine - here again with ample "hemp" and other garrigue herb notes. Good concentration and lingering finish.

Ridge Vineyards (Sonoma County, CA) Carignane "Buchignani Vineyard) 2011
If it weren't for the noticeable American oak on the nose, this ringer might have been more difficult to peg - but that one characteristic made it easily identifiable. Otherwise, the wine did exhibit good varietal notes of dried herbs with a touch of cedar, and fruit tending more toward cane berries (raspberry?). Nicely extracted.

Cave Co-Op Agly (Roussillon) Carignan "Vieilles Vignes" 2011
Among the French entries here, this wine was perhaps the most distinctive, in that it had an intense black currant, cassis character, which some I the group described as petroleum or mineral-related. Nicely balanced and a touch more fruit acid than most others in the group, but perhaps the least typical for the variety.

*Domaine Rimbert "Carignator" (St Chinian) 2009
Very ripe and perfumy aromatics and more forward than the rest, yet with intense varietal character. Good extract and long finish - with light notes of vanilla and coconut (a bit of new oak?)

Chateau Cabriac (Corbières) Carignan "Vieilles Vignes" 2011
This is perhaps the one wine in which I differed with group opinion - i.e. I would have included it in my top 3. Very exemplary varietal character: a little "good funk" with hemp, leather and allspice. Almost sweetish fruit, yet good tannic structure.

*Domaine de la Coume Majou "La Loute-Cuvée du Jubilé" (Côte du Roussillon Villages) 2011 Carignan
My favorite of the day, and a true benchmark for the varietal. Subtle spicy, earthy notes and great depth of blueberry-like fruit, accompanied by "signature" dust, hemp and leather tones in keeping with the variety. Excellent intensity which should make it a good candidate for aging.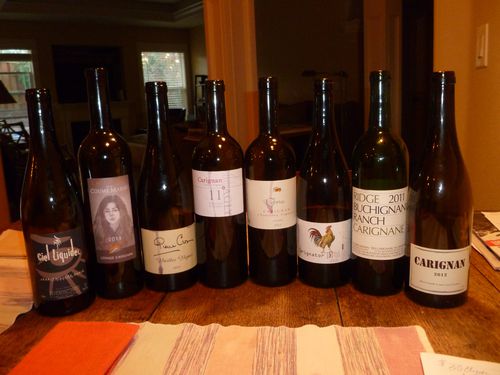 The Cast of Eight
This is an event I'd love to make an annual occurrence, with different entries each year. There are, after all. an almost infinite list of worthy carignan wines being made in S. France these days, with the list continually growing, thanks in part to great promoters of the varietal, like my friend in Perpignan, Michel Smith - who, by the way is on "Carignan Story # 192 in his popular wine blog!
P.S. I'd be remiss not to offer thanks to my wife, Mary, who served up her great Tuscan bean soup after the tasting - a perfect pairing with every bottle in the group....and a thank you also to Keith Orr for contributing the Ridge carignan, as well as to Bob Mayfield for his excellent homemade goat cheese.