July 17 2013
4
17
/

07
/

July
/

2013
18:07
This article will - I hope - be the first of several I intend to post, regarding my recent travels in Southern France.
In fact I could have just titled this piece "Focus on Mas d'Alezon", because they were the one producer I recently visited in June in the Faugères region of Languedoc. I made this trip a top priority this year, as I wasn't able to include Faugères in last year's travels. As many of you may know, although the AOP of nearby Pic St Loup has garnered much of the publicity for "King of the Languedoc" over the past 15-20 years, Faugères, and its schistous soils have recently begun to steal the spotlight. This of course can be credited in large part to vignerons like Didier Barral, who have set the standard for intense and authentic reds in Faugères (and beyond). Happily though, with a recommendation from friend and fellow oenophile, Isabelle Courbet, I was able to sample the wines of another icon of the region, Catherine Roque of Mas d'Alezon.

For a little background: Catherine actually got her start in 1989 with the planting of cooler-climate (i.e. atypical Languedoc) varietals - viognier & pinot noir - at a higher elevation site near Bédarieux. Thus Domaine Clovallon was established there, and later in 1997 she rehabilitated an old plot of vines in the upper reaches of Faugères, ideally suited to the domaine's principal varieties: syrah, grenache and mourvedre.
Schistous soil in a Faugères vineyard

A refreshing aspect of my recent June visit with Mme. Roque, was her ongoing enthusiasm for the opinion of the 'dégustateurs' of her wine - this, considering she has already, in a short span of time, established an excellent reputation among serious wine consumers. I can personally identify with this curiosity, as I myself, during my years as a winemaker, had a fear of "tunnel vision" from tasting my own product over and over - i.e. having an objective taster, who has no familiarity with the wine, sample one's wines, can add a new perspective, while providing valuable feedback. Although I did taste the interesting and impressive cool-climate wines from Catherine's Domaine Clovallon, that can be a story for a later post.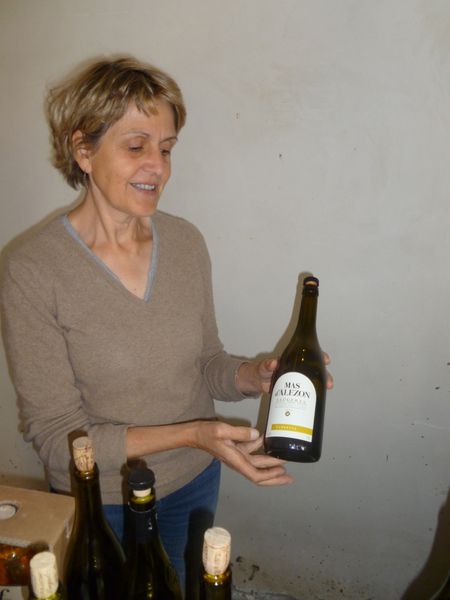 Mme. Catherine Roque (with her Cabretta blanc)
I started with a solid 2011 white, "Cabretta", produced from clairette, grenache blanc & roussane grapes. I should preface these notes by mentioning that I am gradually being converted to (or seduced by?) the return to more traditional styled Languedoc whites, which tend to contain less SO2 and are often neutral barrel fermented (along with some stainless), and with less cold-fermentation temperatures. The Cabretta showed pretty melon tones in the aroma leading into a round texture and ripe fruit on the palate, with surprising acidity. A light touch of oxydation added some nutty character which balanced nicely with the ripe pear fruit. Next came Catherine's main red Faugères cuvée, "2011 Le Presbytère" (homage to the building where the winery is housed) - crafted from grenache, syrah, carignan (pre-phylloxera!) and mourvedre with no added sulfites. In my past experience with reds from Faugères, I feel safe in saying this wine was very typical and authentic in its dark, spicy, peppery, blackberry-like fruit. The slight reduction in the nose only added to its complexity. Very intense and concentrated without being fat, thanks to the fruit acid and firm structure. Not unlike the wines of Leon Barral.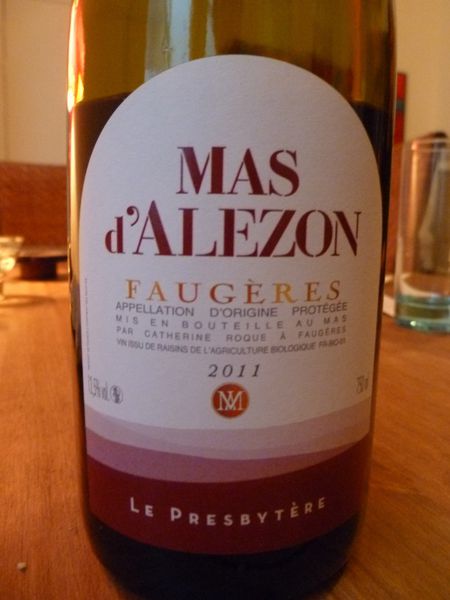 Thankfully, the movement towards truly authentic, unmanipulated wines has really taken root in Languedoc-Roussillon (as elsewhere in France), and these wines are exemplary. In the end, this can only serve to better exhibit the inherent differences among the various sub-appellations here, making it easier for the consumer to actually draw distinctions in their varied wine styles. The Mas d'Alezon wines are distributed in certain states here in the U.S. but likely not very widely due to their small production. For more info on availability you can check out their U.S. importer's website: www.winetraditions.com.
À Votre Santé,
Russ