March 16 2012
6
16
/

03
/

March
/

2012
00:00
I'd lke to go a bit more into depth with the region in which my September '11 adventure began, namely the Côtes du Rousillon & Côtes du Roussilon Villages. It's hard to simply gloss over a wine region like Roussillon, due to its comparatively vast area and variety of soils & micro-climates, but I hope I can do it some justice here by providing a little insight into the distinctive characteristics of both the terroir and producers. To be sure, the region has received its share of flack (some justified) from wine consumers and reviewers over the years. This is due to the fact that many producers in the warmer lower-lying regions of Roussillon have perhaps not been as vigilant as to harvest timing etc. as they should, with the result being over-ripe wines which are in need of fruit acid and balance. With more knowledge of (and experimentation with) planting the appropriate grape varieties in the right locations, plus more cautious monitoring of ripening, many vignerons have begun to create more finesseful and balanced wines, albeit while maintaining Roussillon's signature fleshy texture.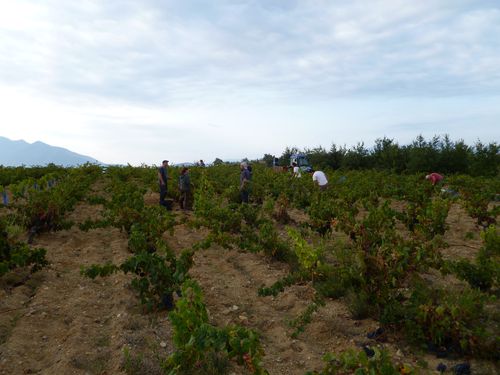 Low gravelly terrace in Côtes du Roussillon (harvest 2011)
In late February I had the wonderful opportunity to experience first-hand some wines in this style while attending Southern France's premier wine event, ViniSud, in Montpellier. Generally, the reds of Roussillon resemble, in character, those of the Corbières and other Languedoc regions, at least in terms of their dried herb notes, deriving from their surrounding garrigue terrain. On the other hand they have a tendancy toward a "chewier" texture than other Southern French reds, while often expressing a bit more "dust & leather" à la Rhone. I believe this could be partly attributed to the slightly greater proportion of carignan grapes cultivated in both Rousillon and the Cote Catalane areas surrounding it, a variety that seems to love the poor soils of Roussillon. As well though, the similarity to the Rhone's gravelly plains shouldn't be overlooked either. In addition to these vast gravelly terraces, one can also find numerous vineyards planted on crystalline schiste and granite-based soils, mainly in the foothills of the Pyrenees. These wines tend to be a bit more elegant with lower alcohol content than those in the lower-lying areas, and have been a catalyst for the renewed interest in the region (both by wine consumers and vineyard land seekers). I already referenced carignan as a major component of Rousillon blends. This is the region's signature variety, giving their reds great structure and longevity. However, grenache (or "garnatxa" in Catalan) is also important in contributing suppleness and alcohol content to the wines. Syrah though, has probably seen the biggest increase recently in terms of percentage in the region, considered to add perfumy aromatics and complexity to the wines. Rounding out the four principal red varieties is mourvedre, which is found primarily in the vineyards closest to the Mediterranean, and which many growers like for its color and fine tannins. Finally, in recent years there has been a growing trend for area vignerons to produce at least one cuvee of pure (or majority) carignan. These wines, typically from low-yielding old vines, are often considered an estate's finest expression of terroir (though ironically AOP rules don't allow them to use the Cotes du Roussillon/Villages names on the label for these), and the prices reflect this! There is a even a movement afoot in Roussillon to have the AOP rules changed, to allow for 100% carignan bottlings under the Roussillon & Roussillon Villages appellation labels. For tasting notes/ratings of some of the wines tasted at ViniSud, please see the featured wine reviews below.
The two main Roussillon sub-regions: Côtes du Roussillon and Côtes du Roussillon Villages together form a sort of ampitheatre with the Mediterranean representing the "stage" (east side) and the foothills of the Pyranees forming the "seating" or north, west and south sides. Roussillon Villages is located on the north side of the ampitheatre, just south of the Corbières, while Roussillon is predominantly on the south & west side approaching the Spanish border. Carving up the middle of the two regions are the three rivers: L'Agly, La Têt, & Le Tech, which of course help explain the gravelly/sandy soils in the lower elevations of both regions. In addition there are a handful of individual villages on the north (Roussillons-Villages) side which have obtained their own separate appellations, i.e. Caramany, Tautavel, Latour de France etc. However the map below can better portray the layout of the region than my description. Perpignan, The regions "capitol" is a vibrant city with deep Catalan roots, and provides a great place to experience the food and culture of the region, as well as a good base for exploring the surrounding vineyards and domaines.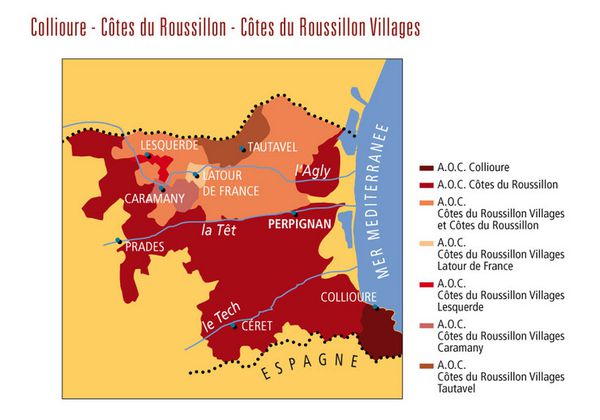 courtesy of Conseil Interprofessionel des Vins du Roussillon
The last stop on my September Languedoc trip was in the Limoux region, just south of the medieval fortress city of Carcassonne, and surrounding the charming market town of the same name. This sparkling wine region seems almost to be an anomaly as a part of France known mainly for its warm dry Mediterrannean climate. However with the somewhat cooler micro-climate (higher elevation) and right choice of varieties, their vignerons have left no doubt about the ability to produce good quality bubbly.The appellation has always made the case that they, not Champagne, were the first to produce sparkling wine in France, with the first mention of "Blanquette de Limoux" (being the sparkling version of the local white still wine) appearing in 1531 in papers written by Benedictine monks at an abbey in Saint-Hilaire. Today the term "Blanquette" is synonymous with their principal indigenous white grape variety for sparklers, mauzac. In fact, with the changes in AOP regs in 1990, sparkling wine labeled as "Blanquette de Limoux" must contain at least 90% mauzac, with chardonnay and chenin blanc being the only other varieties allowed for the remaining 10%. At this same time, a new designation, "Crémant de Limoux" was introduced, which allowed for the use of up to 90% chardonnay & chenin blanc grapes with a minority percentage of mauzac and/or pinot noir. This move was undoubtably taken to insure the protection of the uniquely Limoux mauzac grape. Just as the picpoul variety has done for coastal areas of SE Languedoc, mauzac has provided the comparatively warm Limoux region with a grape capable of achieving the lower alcohol and zesty acidity needed for quality sparkling wine. For the record, although I readily acknowledge the overall superiority of true Champagne in the world of bubbly, I was drawn to this region because of its increasingly consistent quality for the money, the quest for which is of course a main focus of my agenda - i.e. at an average of $13 or so per bottle ($9-10 if you're buying it there), these are wines that can be drunk practically on a daily basis. How many among "we the 99%" can afford to indulge in Champagne that way?
My Limoux tour took me to two very different but equally high quality domaines: Domaine Fourn and Domaine J. Laurens. The former, an old family estate, nestled in the hills above the town of Limoux, and the latter a fairly new addition to the local wine scene, whose facility and vineyards are located on a lower ridge just west of Limoux, and which is already garnering high praise among Limoux aficionados.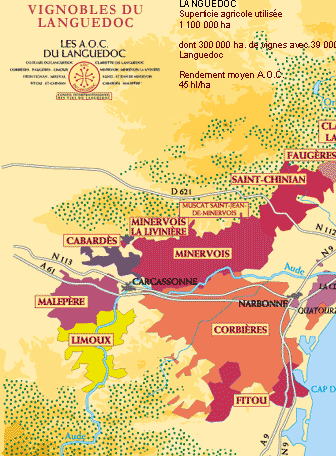 Courtesy of Conseil Interprofessionel des Vins du Languedoc
I had already visited the amiable Robert family of Domaine Fourn once before in 2002, after reading glowing reports on their wines. I was immediately attracted to their traditional production style - and of course, the resulting authentic character it yielded: like the typical green apple notes on the nose & palate (especially their Blanquette). They also produce a Blanquette "Methode Ancestrale" which, with its rich bready yeastiness and slight oxydation resembles more closely Champagne.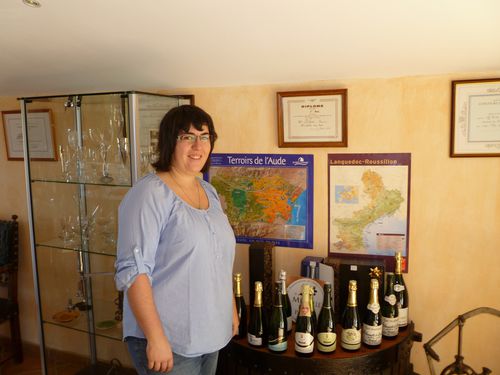 Mélanie Robert in Domaine Fourn's tasting room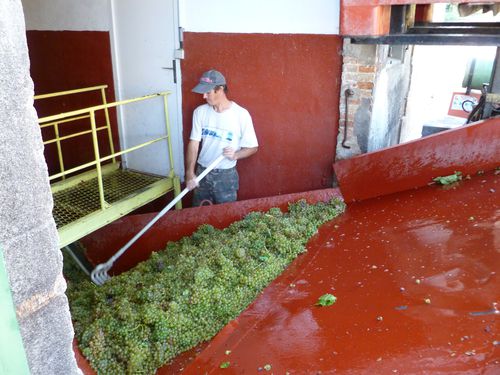 Mauzac grapes heading for the press at Domaine Fourn (Sept. 2011)
The somewhat smaller Domaine J. Laurens, by contrast is housed in a modern facility with shiny new equipment. Looks can be deceiving though, as their tidy operation doesn't preclude the use of traditional methods à la Fourn. Laurens was founded in 1983 by a native "Champenois" and was purchased by a longtime scion with local roots, Jacques Calvel, in 2002. I was lead through a tasting of their cuvees by the owner, and came away very enthusiastic about the future for Limoux. Stylistically, Laurens' brut sparklers tend to be a bit perfumier than Fourn's, while also using a smaller "dosage" - i.e. drier than those of Fourn. The star of the day for me would have to be their brut rosé (see below) - delightfully crisp, delicate and refreshing. Prices for J. Laurens wines are slightly above average for the region (e.g. the rosé would be $15-16 in the U.S.), but still a relative bargain in the world of bubbly.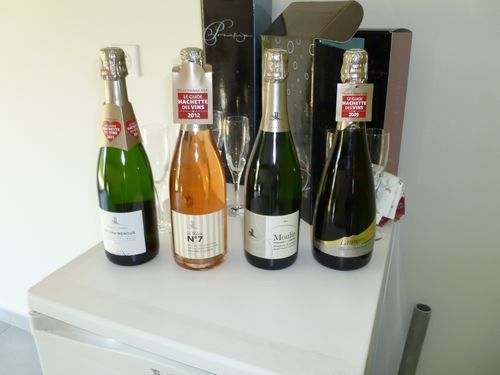 Tasting line-up at Domaine J. Laurens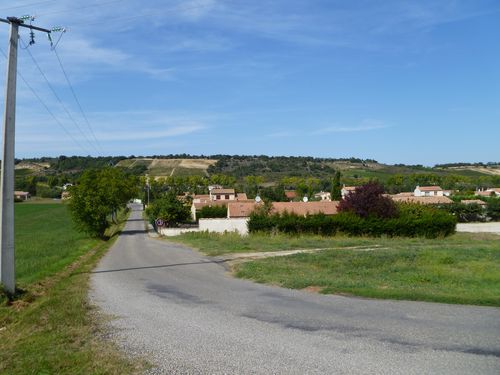 Low hills in Limoux AOP (near Dom. J. Laurens, Sept. 2011)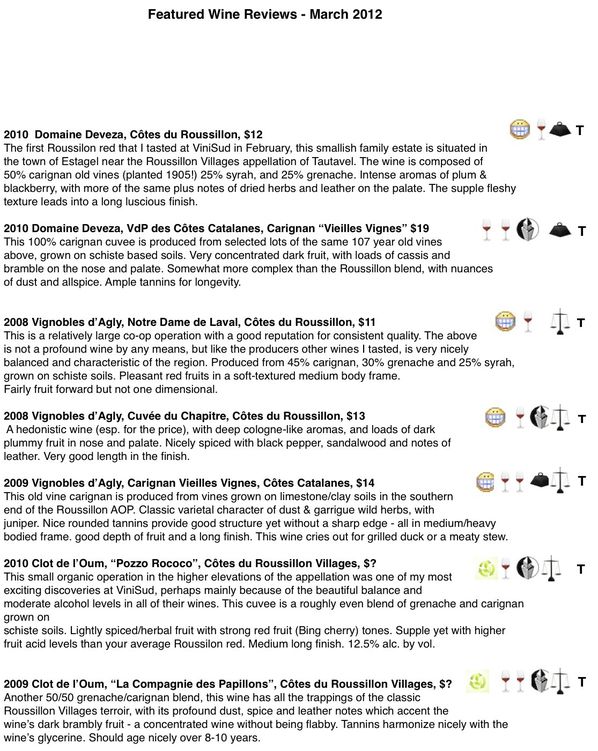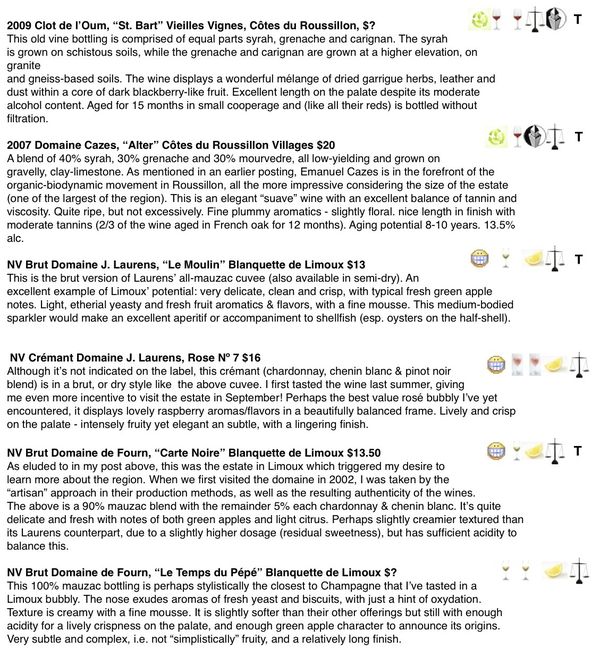 Explanation of Symbols