August 29 2012
4
29
/

08
/

August
/

2012
21:13
Salutations from KLM/Delta Airlines! It seems odd - and even sad- that I have to wait till I'm on a plane back to France, until having enough time to think about posting a new (and long overdue) article to my blogsite.

Although it's not realistic, at this point in my life, to spend more than a month at a time each year in my beloved Languedoc, I found myself yearning to return after only a month back in Oregon....all the more remarkable, considering August yields the Willamette Valley's most beautiful weather. Maybe it's the effect that warm saline Mediterranean air has on my sinusitis, but I suspect it has a bit more to do with the infinite variety of new wines awaiting me, that lures me back.

So this is an opportunity to illustrate that lure, along with a few vignettes from my June visit to the region.

1) I love how easy it is to stumble upon an amazingly good restaurant or bistro in Languedoc without prior research. When attempting to revisit a favorite seafood restaurant in the coastal village of Gruissan near Narbonne, we discovered that they were not open for lunch. They recommended another small bistro a couple of blocks away, and we had a simple but beautiful experience. The place: Le Sarment, heaven for locavores, as they were not only less than a kilometer from their seafood sources, but also featured wines from the surrounding regions of La Clape & Corbières. We nursed a lovely bottle of dry minerally white from a cave directly opposite the restaurant. An ideal accompaniment to our moules frites.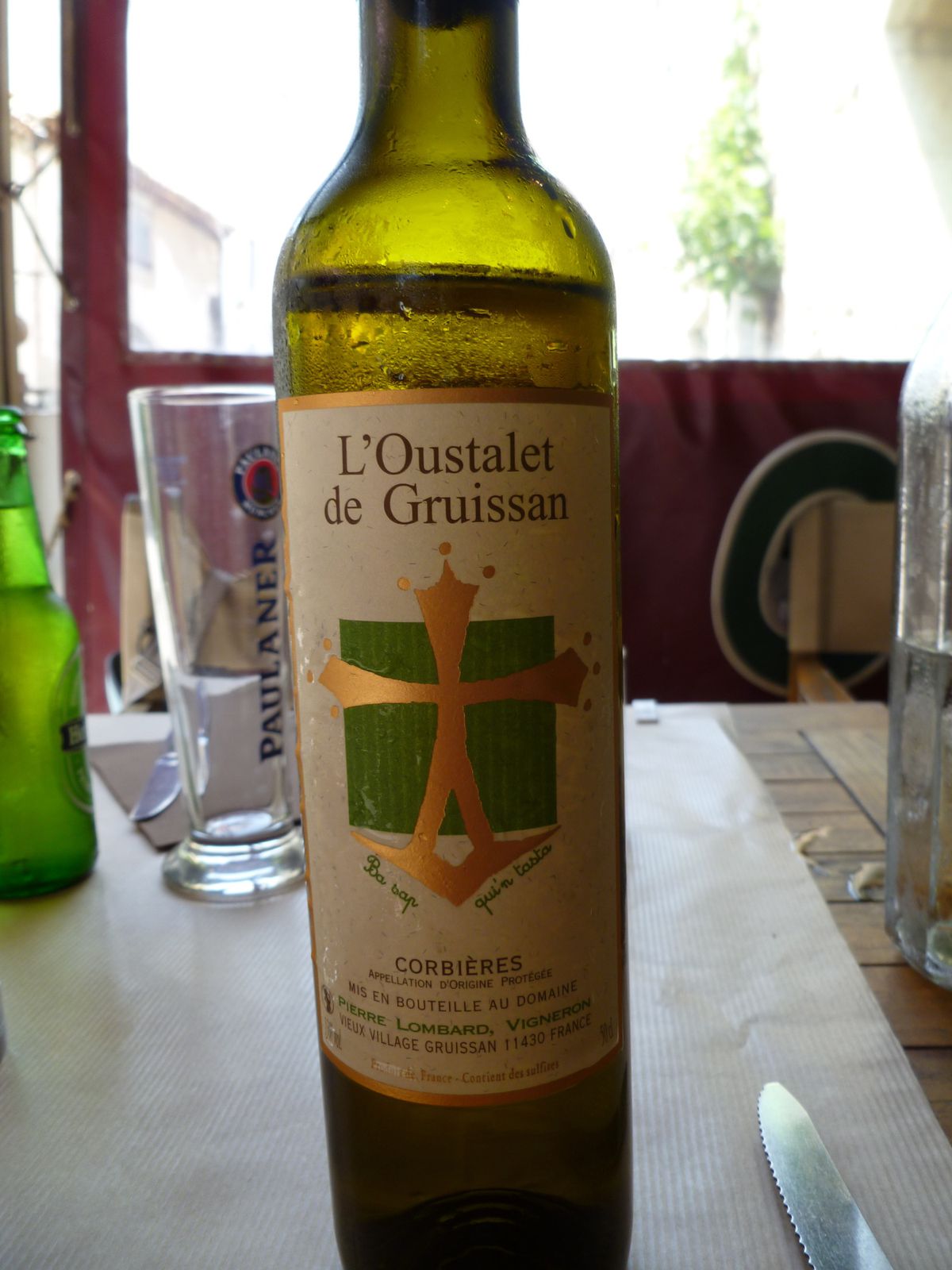 At Le Sarment, Gruissan
2) Virtually anywhere you find yourself in the Languedoc & Roussillon, you're likely only minutes away from a high-quality wine producer. E.g. in Narbonne, where we spend a part of each year, you have the Minervois region just 10-15 Km to the northeast, Corbières 10 Km to the southwest, and La Clape 8 Km due south. The city of Montpellier is in close proximity to numerous AOP (Appellation d'Origine Protégée) wine regions - like Pic St. Loup, St. Christol, St. Drézery etc., while Perpignan has Cotes du Roussillon, Fitou and the Pays Catalan right on its doorstep. Although it's always a good idea (and polite) to call ahead to visit the smaller family-owned estates, even these often have small tasting rooms with regular hours. We actually found this to be a relief when we came across a familiar and excellent producer in the Fitou, "Champ des Soeurs", while en route to visit the renowned co-op at Castelmaure in the Hautes-Corbières. Fortunately, gracious owners Marie & Laurent Maynadier were on hand to greet us for a nice, albeit brief visit and tasting. Not to be overlooked of course is the entirely reasonable price range for wine throughout the Languedoc - both retail and (for the most part) restaurant level. There are exceptions, to be sure, for some top-end domains, particularly in the regions like Pic St. Loup, Montpeyroux and Faugères, but even here you can find regional wines of good quality for "every day" consumption.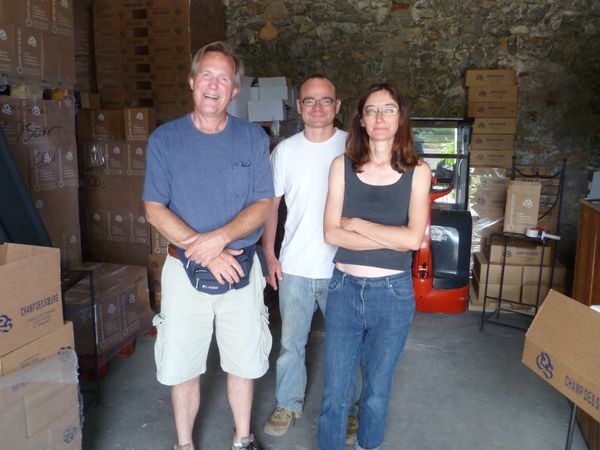 The Maynadier's at Domaine Champ des Soeurs with Trusty Vine's roving reporter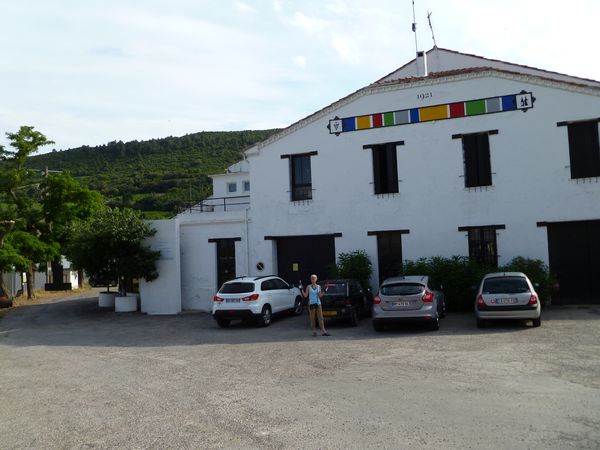 My wife, Mary, in front of the co-op in Castelmaure, Corbières
3) Climate & terrain: Perfect for their array of grape varieties. California's summer climate is often compared to that of the Mediterranean, and this is partly true, but I submit that the southern Spanish Mediterranean more closely resembles California's premium wine-growing areas than does the Languedoc-Roussillon. E.g. most Napa & Sonoma areas are warmer and drier in the summer than (at least) the areas of the Languedoc closest to the sea. As a matter of fact, although humidity levels in the French Mediterranean are not nearly as high as East Coast U.S., on days when the winds are coming off the Mediterranean, there's definitely more moisture in the air than the average summer day on the West Coast of the U.S. - not enough for discomfort, but just enough to intensify the aromas of the garrigue and its wild rosemary, lavender and sage. The frequently rugged terrain of the hills surrounding most Languedoc vineyard regions may seem stark and a bit spartan to some viewers, but for me it's simply the ideal dramatic backdrop to vineyards which (befitting their landscape) produce sometimes rustic, but mostly authentic wines with such a sense of place. As James Wilson quips in his book on French wine-growing geology, "Terroir", "The wines of the Languedoc-Roussillon grow on some of the most battered rocks in France and indeed on some of the oldest and some of the youngest geologic formations" - in other words, an incredibly complex landscape.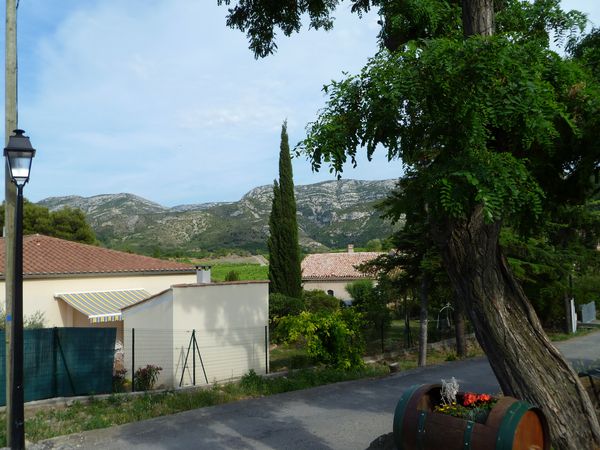 View of Hautes-Corbières from village of Castelmaure
4) .....and certainly not least, are the people and their unique culture. The French are sometimes criticized by American travelers, as being aloof and impersonal - and this can occasionally be the case for those tourists seeking jovial slap-happy types on their France trip. But just because the French don't go about with an ear-to-ear grin on their face everyday doesn't mean they're all miserable self-centered curmudgeons. Part of the French response to visitors (and to one another for that matter) is simply understanding this fact, and approaching accordingly with patience, respect and sincerity (not that these aren't virtues in any society!). Admittedly though, in this regard, the Languedoc has a leg up on most everywhere else in the country - not the least due to the sunny climate, but also the pervasive wine & food culture and proximity to the sea. People here are just more casual and congenial, perhaps stemming in part from their Occitan and Catalan heritage. From my experience, they are definitely not as preoccupied with (or impressed by) glamour & chic as are e.g. their counterparts in the Côte d'Azur. Finally, as elsewehere in France, they tend not to take friendship lightly. Whereas, it seems the current culture trend in the U.S. promotes the amassing of hundreds (thousands?) of friends on Facebook, the French, even in the south of the country, may develop friendships more slowly, but once made, are kept loyally till the grave.
I guess I shouldn't close without mentioning that I also have a great affection for the wines and region of the Southern Rhone Valley (esp. Gigondas) and Northern Provence. However, at my age I've concluded that it's too late to be "spreading myself too thinly" in my research and travels, thus I've settled on the Languedoc - specifically the area around Narbonne - as my adopted home away from home.
P.S. I'll be back in September with more wine notes & reviews with a focus on Roussillon.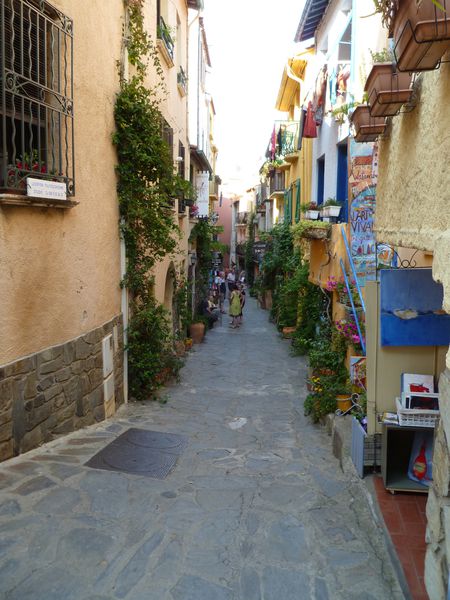 Peering down a narrow "ruelle" in Collioure