October 27 2011
5
27
/

10
/

October
/

2011
18:48
Welcome to the second installment of my little blog, "The Trusty Vine". NOTE: This project is a work in progress. That is, I'm still uncertain as to some elements of the format, as well as the frequency of the postings etc. I appreciate your patience and understanding as I continue to hone my skills. And now to the crux of the matter............
As I made plans for a mid-September trip back to the Languedoc, it occurred to me that even if I still owned our vineyard & winery I could easily fly over for 3 weeks and be back with time to spare before harvest start in the Willamette Valley. As a matter of fact I could have easily worked harvest this year in both locations since harvest started there in late August while Oregon was experiencing its latest harvest on record.....but of course it was preferable not to have the pressure of that burden lurking above.
Although this trip wasn't exclusively wine-oriented, I managed to arrange appointments at numerous domains. Best of all this was my first trip to France during harvest season since 1977 (pretty wet and disastrous vintage throughout Europe - with the exception of Portugal), when I drove from my viticulture school in Germany to Burgundy and then on to Bordeaux. This time I left a wine region whose prospects for an exceptional vintage were looking quite dim, to arrive in an ancient Mediterranean wine region whose warm dry climate seems not to have changed much since before the Romans had even arrived in Gaul....and the weather didn't disappoint this time either, with only a single night of rain during my 20-day stay.
Upon arrival at our little "maison de village" just outside of Narbonne in the village of Marcorignan, only a good whiff of the air was enough to tell me where I was. I can hardly think of anything more alluring than the "garrigue" aromas of wild lavender and rosemary that grow on the scrubby hillsides of this region - the same aromas which are often used in describing characteristics of the region's red wines. Added to this though was the heady aroma of fermenting grapes detectable in almost every little village with vineyards. Many of these towns are still dominated by the local vintners co-op (some of which produce noteworthy wines), but since 1977, the number of family owned domains all over the Languedoc has grown astronomically. This development has translated into vastly improved quality for both privately and co-op owned wineries - in large part due to required lower crop levels, but also improved vinification methods - in what has historically been France's largest reservoir of plonk. It is this fairly recent transformation that first piqued my interest in the area. When you combine this reality with the Languedoc's endless variety of micro-climates, soil types and exposures, plus a plethora of grape varieties (many shared by its Southern Rhone neighbors to the East) you have all it takes to create enthusiasm among wine lovers. The potential here seems almost infinite. While many of the highest accolades recently have been bestowed on the wines from the area just north and east of Montpellier (e.g. Pic St. Loup, Montpeyroux etc.) we'll save that for a later article. In this trip my focus was on the western side of the Languedoc, including Cotes de Rousillon, Corbières, Minervois etc. Of all the sub-regions or appellations of the Languedoc, it's the Corbières which best exemplifies the huge variability in terroir described above, and thus (up to now) perhaps the greatest variation in wine style and quality.
I'd barely arrived in Narbonne, when I shifted my focus to a quick trip over to Perpignan to meet friend and noted French wine writer/reviewer, Michel Smith. Michel had asked if I would like to help in the harvest of his little 1 ha. block of old carignan vines near Perpignan in the Côte Catalane. With at least 10 other pickers (average age 60!) I figured it wouldn't be too much work and a fun opportunity. Admittedly though, I hadn't counted on the evening of copious food & wine at a great little bistro in Perpignan, Le Comptoir des Crus, before the early morning harvest - so, combined with the jet lag, I was not exactly in top form when the picking began. Fortunately the weather was ideal, and after a few rows I got into my rythym, but not without a good supply of bottled water which Michel had supplied. On a surprising note, just to illustrate how small the "wine world" can be, the vineyard manager and harvest coordinator was Didier Van Ooteghem, co-proprietor with his wife Isabelle Raoux, of Domaine des Demoiselles, and a supplier (of organic wines) to our good friend, Don Oman at Casa Bruno Wine LLC in Portland, OR. The vendange ended in the early afternoon with an excellent, if very rustic, 'grillade' chez Demoiselles, with every sort of meat, cheese and bread, washed down by a variety of wines, indigenous and otherwise...... a perfect ending to the day's activities. The only lifting required for the rest of my winery visits was the glass
in my hand.
Yours truly loading the last tray
Grillade at Demoiselles
Michel Smith & Isabelle Raoux at Demoiselles
Balancing house-related duties with winery & vineyard visits, I managed to take in nine producers during my two week stay. These were largely producers about which I'd read (or visited before) as well as recommendations from M. Smith, with an emphasis on natural & organic wines. Five of these in the Corbieres/Roussillon area are listed below along with brief background information on each. I plan to recount the remainder of the visits to other nearby regions with the next posting in December.
Domaine des Demoiselles, Tresserre (AOP* Rivesaltes & Côtes du Roussillon)
Ca. 20 hectares (ca. 45 acres) of certified organic vineyard, predominantly carignan and grenache. The affable Didier Ooteghem manages the vineyards and his equally congenial wife, Isabelle Raoux is winemaker. Both reds and dry/sweet muscat are produced.
Domaine Cazes, Rivesaltes (AOP Rivesaltes & Roussillon)
Large organic/bio-dynamic estate in Rivesaltes producing dry reds (Roussillon AOP) and dry & sweet muscats (Rivesaltes AOP). 200 hectares of vineyard on a gravelly-marly, Chateau Neuf-like alluvial plain. Mostly planted to syrah, mourvedre and grenache, but with sizable plots of cabernet sauvignon & merlot, used in "vin de pays" (not approved varieties for AOP Roussillon). Co-owner & winemaker, Emanuel Cazes is the high-energy force behind the wine-making, while his father and uncle handle marketing and financial management. There's even a beautiful little restaurant, La Table d'Aimé, on premise.
Chateau les Ollieux-Romanis, Montseret (AOP Corbières-Boutenac)
54 hectares of mainly south facing vineyards on a lovely well-protected slope of one of the numerous low ridges of the east Corbieres. Planted primarily to carignan, grenache and syrah. One of the Corbieres' older estates, producing traditional styled reds that are true to the terroir.
Chateau Caraguilhes, St. Laurent de la Cabrerisse (AOP Corbières-Boutenac)
135 hectares of certified organic vineyard (largest such planting in Corbières) primarily carignan, syrah, mourvedre and grenache, with grenache blanc, marsanne and bourboulenc for their whites. Soils are predominantly clay/limestone with significant areas of sandstone. Well-managed estate with a nice variety of wine styles.
Chateau Cabriac, Douzens (AOP Corbières, Montagne d'Alaric terroir)
This old estate and its vineyards lie just north of the massive Mont d'Alaric, and have been owned by the same family since 1793. Current proprietors are gracious and amiable hosts, Jean and Michèle de Cibeins. There are ca. 70 hectares of vineyard here, planted on a north facing slope with marly sandstone, and a shallower soil depth than most parts of the Corbieres, yielding well-structured reds. Varietals used for reds are carignan, mourvedre and syrah, with smaller portions of grenache and cinsault. Cabriac also produces small quantities of a vibrant and crisp white from the vermentino (rolle) grape.
* Appellation d'Origine Protegée (replaces Appellation d'Origine Controllée)
Emanuel Cazes (in case the sign wasn't enough)
A section of Cazes' bio-dynamically farmed vineyard
Estate vineyard at Ch. Ollieux-Romanis
Crush area at Ch. Caraguilhes
Veronique at Ch. Caraguilhes' tasting room
Reserved parking for Burros - Ch. Caraguilhes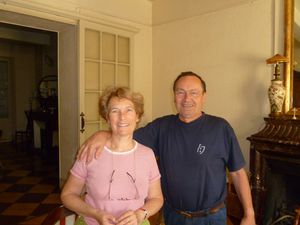 Michèle et Jean de Cibeins at Ch. Cabriac
Featured Wine Reviews
The following reviews of Languedoc wines were tasted either at home in Salem, or in Marcorignan - i.e. not on site at the winery. You'll notice that most are not correlated to the estates visited. Many of these wines from mentioned properties will appear in the December post (sorry, logistical problems). An explanation of symbols can be found at the bottom of page.