January 8 2012
1
08
/

01
/

January
/

2012
20:12
In this, the 3rd issue of The Trusty Vine, I'll be moving on to the Corbières to relate my visits there, then, with my last post of this series I'll venture into neighboring Minervois and further east to St. Chinian.
For those unfamiliar with the geography of the western Languedoc, I think it helps to know that the two most well-known sub-appellations in this area, Corbières and Minervois, are only separated by the Aude River (see map below), which starts in the foothills of the Pyranees, flowing southeast into the Mediterranean north of Narbonne. Both regions share a predominant soil type, limestone-clay, and both share very similar climatic influences as well as the ubiquitous "garrigue" terrain (the scrubby, herb-infused hillsides lying between the valley floor and the higher forrested mountains. Perhaps the biggest difference is the more uniformly south and west facing slopes of Minervois vineyard sites versus a more diverse variety of exposures in the Corbières. In addition, the Minervois tends to have fewer vineyard sites in lower, flatter plains than Corbières, as well as somewhat less marine influence from the Mediterranean (at least on the south flank of each region). Both regions have recently divided their appellations into individual "terroirs" (distinctive climatic/geological subregions), while granting a higher classification to specific areas within each appellation: in the case of the Minervois, the area surrounding the village of La Livinière, and in the Corbières, the terrain around the village of Boutenac. As in any such classification, there are bound to be politics and injured egos involved, but it seems most seasoned connoisseurs of Languedoc wines agree that on average these two terroirs are producing the most consistently high quality wines of their respective appellations. Only time will tell though, whether other areas may emerge which will garner as high or higher acolades as these two. I never cease to be amazed that in such an ancient (Greco-Roman) wine region as the Languedoc, the quality classification of vineyard sites and wines continues to be a work in progress. The Languedoc's status as a sort of "New Frontier" in French wine can largely be explained by the fact that until recent times, too much emphasis was placed on quantity over quality - often giving preference to a grape variety mix which was not the best suited to a particular climate and soil. Of course this is now precisely what makes the region so exciting for oenophiles.
* map courtesy of La Région Languedoc-Roussillon
On a beautiful morning in late September I drove out from Marcorignan to visit the Cibeins family at Chateau Cabriac in Douzens. With limited time in this trip, I purposely tried to select some vintners in subregions with which I'm a bit less familiar. From all I'd read and heard, Ch. Cabriac was an estate that is a must see - as well as very typical - for the Montagne d'Alaric area of Corbières. Although perhaps not as heralded as the Boutenac area, Montagne d'Alaric boasts a handful of the most respected wineries in Corbières. I was graciously received by Jean & Michele Cibeins, who led me through a brief tasting of their current wine offerings and a cellar tour, followed by an unexpected invitation to lunch - an impromptu but delicious spread of cheeses, cured meats and fruit - taken in a garden area next to the chateau. I should mention here that there's often a misperception among Americans that French Chateaux are all inhabited by elitists who have little regard for visitors. The Cibeins are among the many French wine chateau owners who help dispel that myth on a daily basis, inviting strangers into their homes as if they were family.
Chateau Cabriac, Mont d'Alaric, Corbières
From anywhere in this part of the Corbières, one need only look to the south at the massive limestone ridge of Mont d'Alaric to understand why the vineyard soils here are so rocky. The red wines I experienced at Cabriac were very much what I'd anticipated, very good concentration of dark fruit with a firm backbone of tannin which is to be expected from vines grown on shallow rocky soils. What caught me unaware though was the beautifully light and crisp white from the Vermentino grape I tasted during my visit here. This grape, known more often by the name Rolle in southern France is an Italian import which (judging from this example) has great potential in Corbières. In addition, it appears that the Syrah variety appears to have more success here than in most other parts of the Corbières, a higher proportion of which gives the Cabriac that extra bit of structure in the reds.
Due to a little too much sipping and socializing, I had to call ahead to my next stop, Ch. Caraguilhes, to beg forgiveness for my certain tardiness. Thankfully they were very flexible with their time, I'm suspect because they had no other visitors scheduled on a weekday in late September - during harvest no less. Ch. Caraguilhes is situated above a very gently sloping (and extensive!) vineyard in a wide valley on the west side of the Corbières' Boutenac region - and on the opposite side of Montagne d'Alaric from Ch. Cabriac. The soil here is deeper than Cabriac's vineyard but slightly less so than the area closer to the village of Boutenac. Ch. Caraguilhes was actually still finishing up the harvest when I visited, I guess not surprising since they have so many hectares of vines, plus a substantial planting of the Mourvedre variety, which is one of the last to ripen in the Corbières. Caraguilhes only had a few bottled wines still available for tasting - but at least enough to get a good feel for the "house style". Caraguilhes' reds often exhibit a distinctive earthy/herbal character, which speaks of typical Corbières, just more intensely so. Their organic approach in both vineyard & cellar guarantees that their wines' distinct character is a natural (terroir-derived) attribute, vs. a product of excessive winemaking manipulation. Judging from the spacious facility and high-end equipment, Caraguilhes is obviously a well-financed operation - in this case, not a deterrent to the production of authentic and natural wine!
Fermentation area, Chateau Caraguilhes, Corbières
My last stop on the Corbières circuit was Chateau Ollieux-Romanis - not to be confused with their equally rated next door neighbors, Chateau Ollieux (next trip?). The chateau is situated at the base of a gentle south slope in the heart of the Corbières-Boutenac terroir. A rather rustic tasting room is located on the ground floor of the building with production facilities connected to the back of the chateau. This is one of the older estates in the region, at least concerning its existence as a family-owned (non co-op) producer. Like many medium to large estates in the area, Ollieux-Romanis offers a fairly wide range of wines in terms of quality and price. Their wines provide a very good introduction to the Corbières, as they seem to posess all the most typical regional traits in their flavor profile - and above all, are not heavily extracted fruit bombs - rather fairly subtle.
Entrance to Chateau Ollieux-Romanis, Corbières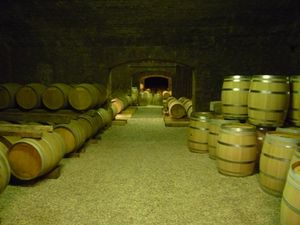 Barrel aging cellar, Ch. Ollieux-Romanis
Featured Wine Reviews
The following reviews of Languedoc wines were tasted either at home in Salem, or in a group tasting - i.e. not on site at the winery. You'll notice that they are not nec correlated to the estates visited. An explanation of symbols can be found at the bottom of page.