September 30 2013
2
30
/

09
/

September
/

2013
22:52
It's like an awakening, when I consider my naïveté at the time I was just discovering wine in the early/mid '70's. For one, I recall being so easily influenced by the wine evaluations and recommendations of the (few) "reliable" publications in that era*. But I suppose my most egregious 'vinous sin' committed, was the total embrace of the 100-point wine rating system. It seemed so plausible and concrete then - and of course, as a wine retailer for many years, it was also a useful technique for promoting the sale of one wine over another. In retrospect, I only wish I'd had the courage to break away from this monotonous cookie-cutter approach, and stick to my own palate for making recommendations. After many years, I finally came around to the realization that there is so much more relevance in reading the descriptions with these often meaningless scores - and better yet, discussing the merits (or lack thereof) of these wines with other interested oenophiles - of course, over a glass of wine. Certainly, in terms of basic "quality characteristics" of a particular wine, most experienced tasters could come to an agreement. However, in terms of specific wine styles (for any given variety) the assessment of wine is simply too subjective to satisfy consumers with a "one-size-fits-all" point rating. One person's "shortcoming" in a wine can often be another's element of complexity.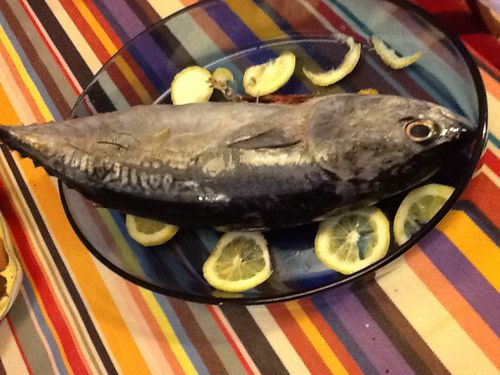 The Evening's First Course - Tuna from the nearby Mediterranean


And this is one important reason why I feel that most large wine publications (esp. those which accept advertising!) are increasingly irrelevant in today's wine journalism. Surely, it may seem convenient to have ratings for practically every genre of wine at your fingertips, but for the specific wines one most enjoys, is he/she getting the most accurate information
available? Personally I don't think so. e.g. On the internet today, one can find many a 'decent' blogger, often who specializes in a specific region or genre of wine, for virtually every type of wine on the market. Of course it's necessary to do the vetting process in this case (tasting recommended wines) in order to confirm whether one is "in tune" with the palate of any given wine-blogger. But also, increasingly, many bloggers are not even out to make blanket wine comparisons and assessments (myself included?) but rather to simply provide information on the nature of a wine or wine region - hopefully in an entertaining way. Perhaps the most positive aspect of internet wine & food reviews, is the ability of the reader/consumer to interact with the writer, responding to an article - agreeing or disagreeing with the premise. For me, this kind of transparency and interaction give more legitimacy to on-line wine journalism, helping to keep the writer more honest as well. There are numerous wine appreciation books out there for beginning wine drinkers, but beyond that point, I'd contend that most of those consumers, new to wine, are better served by a wine/mentor friend, the local merchant of their choice, or by experienced wine bloggers.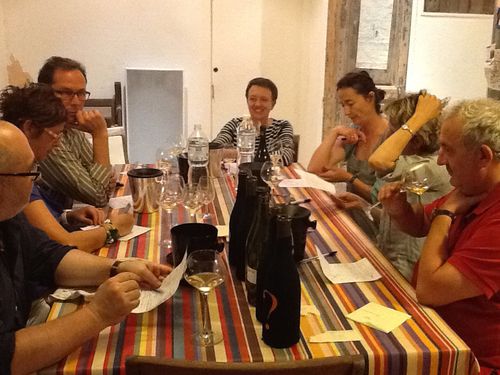 Isabelle Brunet (center), Isabelle Courbet (on her right) & Ivo Pagès (far right)
All this leads me to the 'crux' of the above title: relationships. Maybe it's a "mellowing with age" thing, but I no longer have any use for merely collecting wine based on this or that score or review in a Spectator type pub. I much prefer these days to develop personal relationships with other wine consumers, producers & merchants. My real gratification derives from enjoying an authentic and well-made wine from a vigneron whom I like and respect. But above all, enjoying such wines with people whose company I enjoy. This latent desire of mine was recently awakened while attending a wonderful tasting and dinner this past June at the home of friend and fellow oenophile in the Languedoc, Isabelle Courbet. With my new-found interest in wine writing, I was in nirvana, being in company with two respected (French & Catalan) wine bloggers. Vincent Pousson & Ivo Pagès (unfortunately my much respected "veteran" writer friend Michel Smith, was out of the country at the time). The occasion for the event was a fascinating tasting of older whites from the "sister domaine" of Mas d'Alezon (about whose wines I wrote this past July) i.e. Domaine Clovallon. This was followed by a casual dinner with miscellaneous wines brought by the attendees. But my focus here is not on the food & wine itself (as excellent as they were) rather the camaraderie and conversation accompanying the food and wine. When I asked Vincent his opinion of certain wines, he didn't seem too interested in making broad assessments, but instead (in my loose translation) remarked that it was more important that they were well-suited to the food and company - and his partner, Isabelle Brunet, echoed the same sentiment. In the same vein, although Catherine Roque (of Domaine Clovallon) was curious to know our ratings on the wines she poured, she seemed more inspired by the discussion that followed. It was genuinely refreshing to hear this affirmation of an attitude I've long held - but have needed to express more strongly. And all the more so, coming from a well-seasoned knowledgeable wine writer with a large and loyal readership. Personally, I would submit that there are numerous American (as well as some Brit & French) wine reviewers who could learn from the sincerity and lack of egotism displayed by the likes of Vincent, Ivo & Michel. They don't pontificate, they just do their research diligently, inform and entertain - as wine & food writing should be!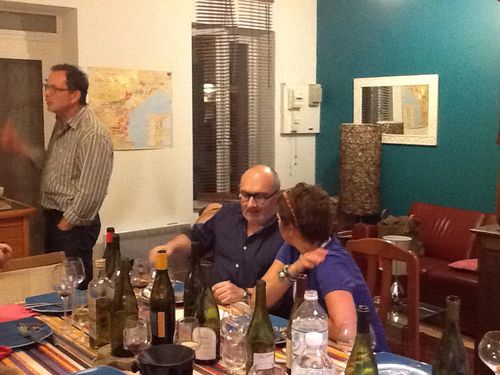 Vincent (the bald one)

Discussing all the enjoyable wines consumed at this gathering would likely make this post too lengthy and ponderous - or maybe not, since by 1:30 a.m. I could scarcely recall what I'd drunk! But I should mention that, apart from Catherine's lovely line-up, I did take notes on a very solid, mainly carignan, red from the revered Cave Co-Op Castelmaure (Corbières) brought by Vincent (with the witty designation: "Le Millésimé du Siècle?" translated: "The Vintage of the Century?") - fine balance, bright fruit, with a good, but not excessive, tannic grip.
But the real "take-away" here is the sheer pleasure of sharing good wine & food with good company! - the too often 'unsung' value of relationships in the realm of wine journalism.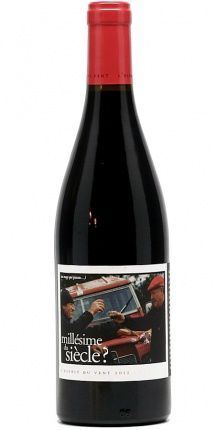 * the wine shop I managed was subscribing to the hand-typed version of The Wine Advocate in 1979.