November 6 2013
4
06
/

11
/

November
/

2013
18:51
I just couldn't resist sharing a brief story on this recent experience. After having cast eyes on this bottle every time I'd enter my little cellar, I'd think to myself, "man I've got to drink this before it's down the tubes" (while fearing that it may well be "there" already). Besides, in 1982 you could probably count on one hand, the number of wines from Languedoc that pundits would expect to age beyond 9-10 years.

So last week I finally decided that I needed to face the consequences, and open my lone bottle of 1982 Mas de Daumas Gassac - and was I ever astounded! I don't believe it could hardly have been any better if I'd opened it 10 or 20 years earlier, as it was still amazingly vibrant and healthy.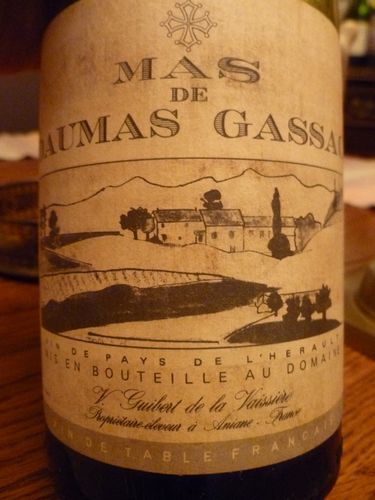 Many of you know about this fine estate in the village of Aniane, and how it's owners, the Guibert family, helped in putting the Languedoc region on the map with their first vintage in 1978, i.e. as more than just a region of over-cropped plonk. What is intriguing to me however, is why they chose to plant Bordeaux varieties, primarily cabernet sauvignon, merlot and cabernet franc. This I suppose though could be partly explained by the fact that none other than the famed Bordeaux enologist, Emile Peynaud himself, visited the site to give his blessing before the planting. Even if their sub-region of the Coteaux du Languedoc, Terrasses du Larzac* near Montpellier, is slightly cooler and moister than many Languedoc micro-climates, I'm still dubious about the fact that the local indigenous varieties were eschewed - unless the Guiberts were convinced that they could compete with grand cru Bordeaux? Granted, they do now produce some fine wines from indigenous varietal blends - syrah, grenache, carignan etc. under the Moulin de Gassac label - but their flagship reds are still cabernet sauvignon based.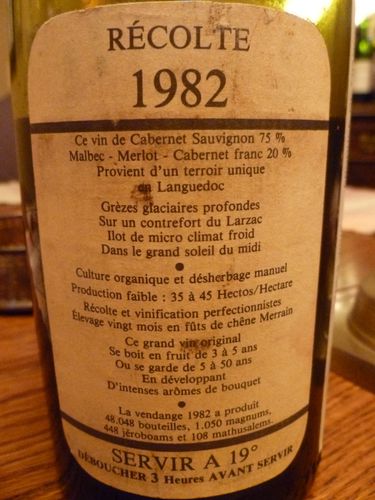 Getting back to my point for this little piece, I've been trying to contemplate how best to categorize Mas de Daumas de Gassac. That is, while it has certainly built a solid reputation for itself over the years, can it really be considered as a typical wine from its region? I'd have to say unquestionably not, and tasting the above wine confirmed that for me. Their 1982 could easily be mistaken for an old Medoc if tasted blind - what with all its cedary, cigar box like aromas & flavors. Make no doubt about it though, this is still an impressive wine regardless of its lack of typicality - intense & ripe dark plummy fruit tones with soft tannins and an almost chewy texture. I now regret not stashing a few more of these away, especially considering I only paid $7.99 for the experience, back in 1984 - whereas the same wine in the currently available vintage, 2011, runs about $32 per bottle. On the other hand, if I'm seeking a Bordeaux-like red, Languedoc is not where I'd be looking. The region currently has hundreds of wonderful authentic wines that, quite honestly can "speak the Occitane language" better than Mas de Daumas Gassac.



* can only be labeled as "Vin de pays de l'Herault" due to its use of non-approved grape varieties.