August 6 2013
3
06
/

08
/

August
/

2013
01:06

I don't consider myself to be a restaurant reviewer by any means, but occasionally I come across a place that meets my every expectation, and begs to be written up. I'll leave the Michelin starred restaurants to the full-time professionals, but as is the case with my wine recommendations, I'm also a seeker of good-value in dining. As I've eluded to in the title above,
I'm usually a bit cautious in getting too excited after a single great experience in a new restaurant. Mary & I just, however, made our third gratifying visit to this sweet little bistro in our "other home town" of Narbonne, France, and I feel that all its merits warrant some accolades now.

Of course with all the restaurant apps available online these days, anyone can spout off their opinion on a particular dining spot - even before they vacate the premises. So even for those places I would tend to rate highly, there are usually as many diners who had a bad (or not so stellar) experience there. Who knows, perhaps we're dealing with extremely fussy diners who are easily put off by a single kink in the decor, service, or preparation etc. - which is why I prefer to delay making an assessment until the second or third visit.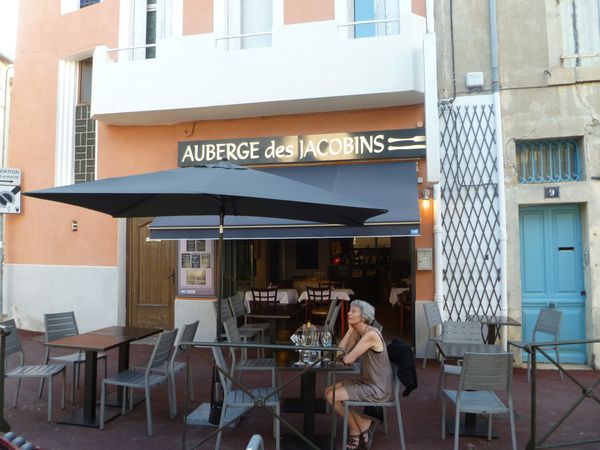 My Wife, Mary (dreaming of the meal to come?). We obviously beat the crowd this night!
Auberge des Jacobins is a totally unpretentious little bistro, located on a side street just off of Narbonne's main plaza on the Canal de la Robine. Not having the heavier foot traffic adds to the intimacy of the location - along with the limited seating (more than half of which is on the sidewalk in the warmer months). Auberge describes itself as serving "cuisine traditionnelle" in one online restaurant guide, while applying the rubric of "cuisine provençale" in another. In either case, it is definitely typical southern French cuisine with an emphasis on Mediterranean seafood. The menu is by no means exhaustive, but is well-balanced for such a small venue, staying with local products. Happily the somewhat limited wine list also focuses on small local producers - especially reds & whites from nearby La Clape and Corbières, and like the food choices, are both very suitable with the dishes offered and very fairly priced. Of course, being just a block away from Narbonne's covered produce, meat & fish market certainly helps as well.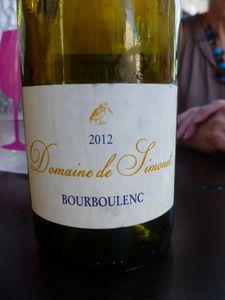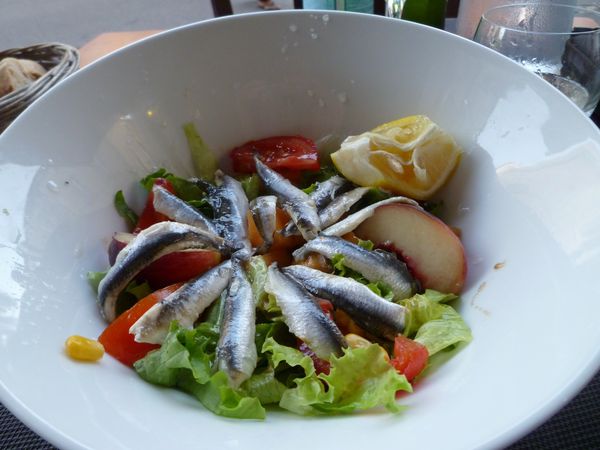 One feature of the food preparation I particularly appreciated is the way the chef-owner, André, seems to be careful about not letting his sauces interfere with the flavors of the fish, fowl or meat, using subtle condiments/sauces which nicely accent rather than overwhelm the dish. Two specialties that diners here don't want to miss are the wonderful freshly caught "encornet" (largish Mediterranen squid) and anchovies (above - definitely not the oily, salty version you find in cans!). And to complement their shellfish, they've selected some ideally suited crisp & minerally regional whites (like the lovely 100% bourboulenc above) - this in a region which is much better known for its reds.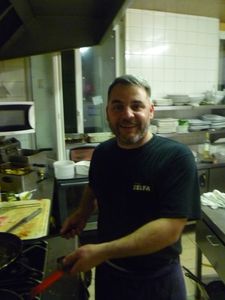 André Brianc, hospitable chef & proprietor

Last and definitely not least is the congenial and efficient table service of the chatty and energetic Vanessa - who is the only server we've ever experienced here. Personally, even considering the small size of Auberge, I'm not sure how she manages alone when the place is packed, as it was on our last visit. So if you should find yourself in Narbonne with an appetite and some time to spare, Auberge des Jacobins is time (and euros) well-spent.

Bon Appétit,
Russ


practical info:
Auberge des Jacobins
8, Place des Jacobins
11100 Narbonne
tel. 04 68 32 27 43