September 21 2012
6
21
/

09
/

September
/

2012
16:52
Under normal circumstances, it would be hard to justify to my wife, a second trip back to France within 2 months. This time though, I had a worthy cause, i.e. completing the move from our town house in Marcorignan, to an apartment in Narbonne's city center. Of course I couldn't imagine a trip that's all work and no play, so I carved out some time to reconnect with friend and vinous confidant, Michel Smith, for a 2-day jaunt in his native Roussillon. Visiting wine estates & vineyards in Languedoc-Roussillon is always both entertaining & educational with Michel, as he is so well-acquainted with the local vignerons throughout both regions. This time around we focused on the villages of Calce & Banyuls (which I'll cover in my next post). Calce is nestled in a fold in the low calcareous hills (hence the name) northwest of Perpignan. The vineyard soils here are on the arid and shallow side, ideally suited to grenache and carignan. The village has already garnered numerous accolades in recent years, due to the presence of the renowned Domaine Gauby - which is most certainly no longer alone. The additional five estates which have located here in recent years (largely as a result of Gauby's success) are producing very impressive and authentic wines as well, mainly organic/natural, the reds frequently having a hefty dose of Rousillon's beloved carignan.

Our timing was slightly awkward due to the start of the harvest - for white grape varieties at least - though the producers we visited were very accommodating, and we were able to taste & chat between their winery duties. It was a typically hot late August day, and the picking, which had begun early in the morning was nearing an end when we arrived late morning - so as to avoid the grapes being excessively warm at crush.

First stop, Domaine Padié, just off the town square. Youthful owner-winemaker, Jean-Phillippe Padié, received us, along with his "crush team". Although it wasn't the first time I had had the opportunity to taste the "new Roussillon" wines (which are so much more focused and subtle than those I'd first tried back in the 70's & 80's), Padié's wines were still a sort of wake up call to me for the great potential in this region. The whites, intensely minerally - viscous yet crisp & lively. The reds, simultaneously rustic while still focused & refined. It shouldn't come as a surprise I suppose that these wines were so expressive, since Padié and his neighbors are all on the same page with their organic regime in the vineyard and minimalist approach in the cellar.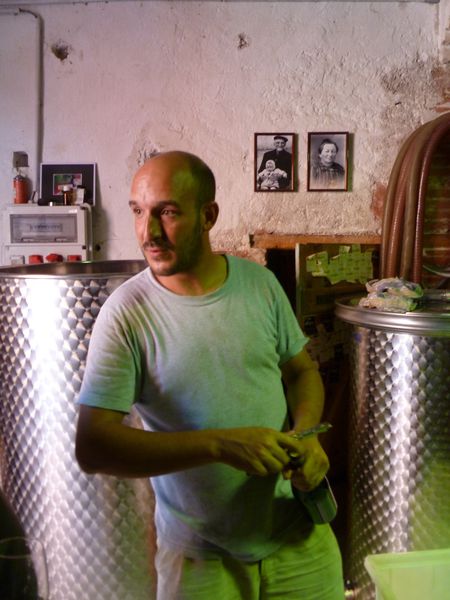 Jean-Phillipe Padié
Padié's lovely Fleur de Cailloux (grenache blanc, grenache gris & maccabeu blend)
Next stop was Domaine Pithon, just a block down the street from Padié. We began our tasting here with a winery assistant until owner, Olivier Pithon, could make his way back from the vineyard. Pithon's wines seemed to "push the envelope" yet farther in his quest to achieve authenticity. So much so that I must admit I struggled to warm up to his white wines in particular. They seemed to be (purposely?) slightly oxydized - which can add an interesting nutty quality, but can also dry out the fruit, leaving a slightly "grainy" character in the aftertaste. Conversely I found his reds to be stylistically close to Padié's bottlings - meaty texture, with good structure and notes of leather and dust, seemingly capable of long aging.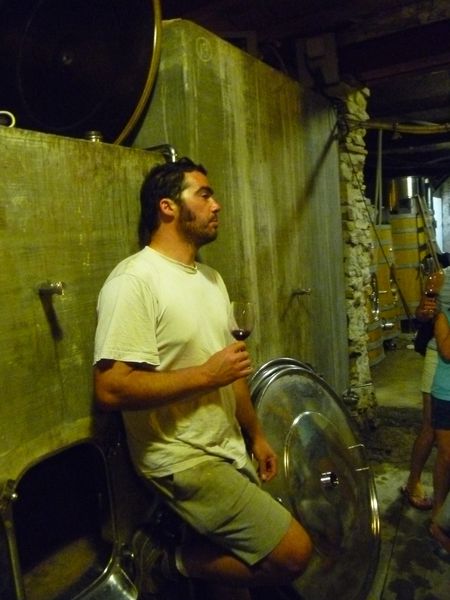 Olivier Pithon, providing the "low-down" on his juice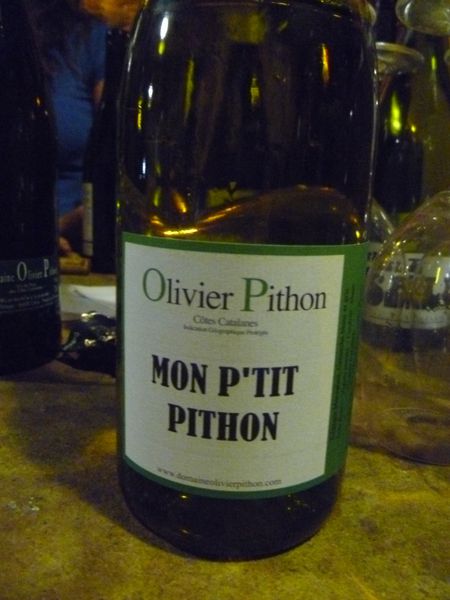 A Calce-an sense of humor
All that wine tasting called for a hearty Roussillon lunch at Calce's one and only restaurant - once again, like everything else in the village, it was within a short walking distance. The bistro, Le Presbytère, has an interesting story behind it. A few years back the old stone building that houses it (former presbytery of the town church), was vacant and owned by the city hall. So the visionary town mayor, realizing the village needed a good locale for regional cuisine, developed a plan to attract a bistro to the location - but with the condition that it serve also as a showcase for the town's wine producers. Voila! - a huge success for the town, the bistro and the vignerons.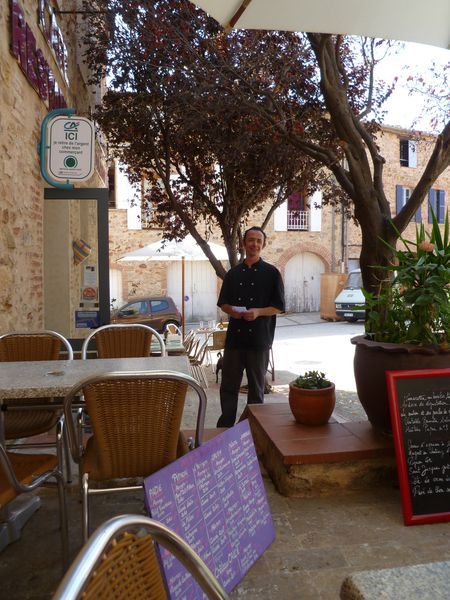 Léo Barlahan, co-proprietor of Le Presbytère, Calce's excellent (and only) bistro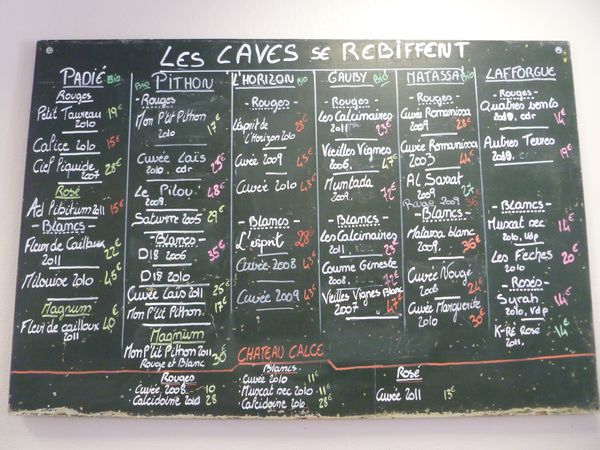 One-Stop tasting for all of Calce's wines at Le Presbytère
As can be seen from the above chalkboard, "completing" this blog will require another trip. Based on the enlightening experience and truly authentic wines we tasted, no coaxing will be required!
-Russ