October 31 2012
4
31
/

10
/

October
/

2012
22:38
The second day of my August Roussillon tour was spent in the charming village of Banyuls-sur-Mer, a sort of partner village with nearby (and equally charming) Collioure & Port Vendres, and just minutes from the Spanish border. To describe the vineyards in these communes as dramatic, would be an understatement, with the often incredibly steep slopes covered with terraced vineyards tumbling down to the sea. It's clear that machine harvesting is not an option here! Our time was spent mostly at Domaine La Rectorie, directly in the village - this, for a good reason - not only are they considered to be perhaps Banyuls premier estate, but with all the various cuvees they produce, one can easily spend 3-4 hours tasting and chatting. On the day of our appointment, we were greeted by the amiable and slightly eccentric co-owner (not to mention accomplished photographer) Pierre Parcé. Pierre and family live in a rambling old manor house - with enough space that I could actually envision a 'winery museum' being housed there. Mid-way through the tasting we were joined by Pierre's brother and co-owner, Marc. In fact, the Parcé family is so extensive and deeply rooted in Banyuls that before we even began to taste, Pierre pulled out a family tree chart (in progress), as if to seek our input on how to manage the sharing of the estate among the descendants!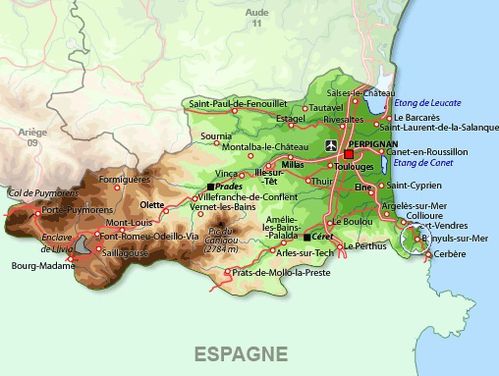 Pyrénées-Orientales (with Banyuls encircled)
A little primer before delving into the tastings: Banyuls & neighboring Collioure actually share a wine-growing appellation - any dry table wines (i.e. non-fortified, non-dessert wines) produced within the shared region are automatically designated as AOP Collioure, while those produced as sweet fortified "vins doux naturels" wines are labeled AOP Banyuls. Red grape varieties for the production of Collioure are naturally akin to those of neighboring Roussillon, i.e. grenache, carignan, syrah, mourvedre. The small amount of white Collioure produced relies mainly on grenache blanc, grenache gris & macabeu. For Banyuls, the dominant red varieties are grenache and carignan, while their less well-known whites are produced from mainly grenache blanc & grenache gris. Banyuls' "vin doux naturels" are made using the "mutage' method (not unlike port) in which a 95% alc. grape brandy is added before the fermentation is complete, creating a high residual sugar level. This brandy addition is, however, smaller than one would find in the port process, generally yielding a wine of around 16%+ alcohol versus 20% in port. Wines made from fruit just outside the appellation boundaries, or from non-permitted varietals, are designated "Cote Vermeille".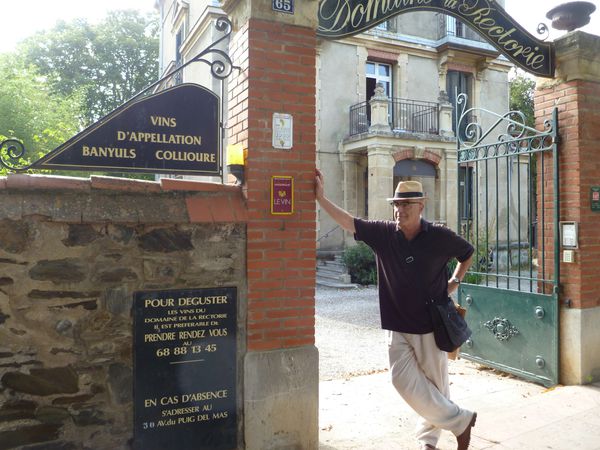 Michel Smith, entrance to Domaine La Rectorie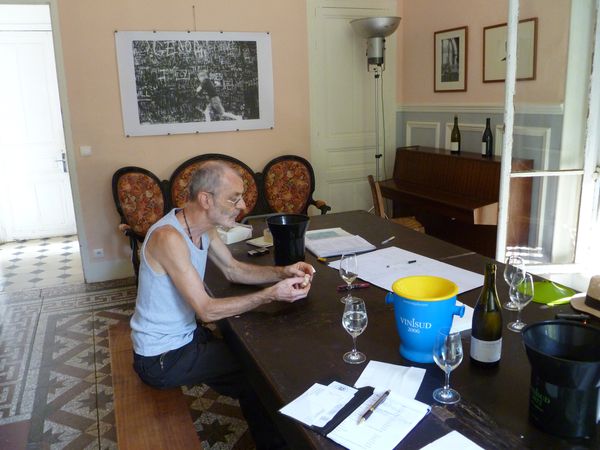 Pierre Parcé, Domaine La Rectorie
Pierre started us off with two impressive dry whites, the first, from a newish domaine owned by the nephew of Pierre, Joseph Parcé: La Préceptorie in St. Arnac, Roussillon, was the barrel fermented 2011 "Coume Marie" a lovely blend of grenache gris and macabeu. This wine shared its deep mineral & earthy notes with the white wines of Calce, covered in my last post - as well as an equally clean and crisp character. The second, 2011 Collioure "L'Argile" (indicating the calcerous/clay soil type of the vineyard) is produced from 90% grenache gris & 10% grenache blanc. This was very similar to the above, but rounder in texture, a bit more complex ,and with a distinct caramel note from some new oak in the barrel aging.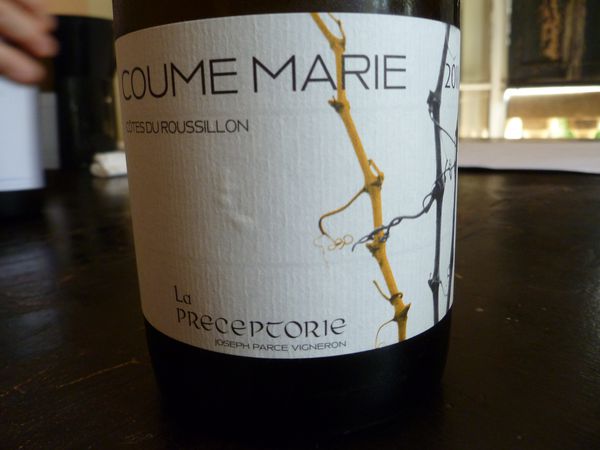 From here we launched into several bottlings of La Rectorie's Collioure, mostly from the much heralded 2011 vintage, but some older vintages as well. To keep things succinct I'll just say that my favorite among these was the 2011 Collioure "Coté Mer", produced from old vine grenache (50%) with syrah and a small portion of carignan. Although only in the bottle for a bit over one month, this rich-textured cuvee was already showing beautiful spice, leather and dusty garrigue notes on the palate with a long spicy finish. Also very impressive, was the "red edition" of the 2010 Cotes du Roussillon Villages "Coume Marie" from La Preceptorie: dark and intense fruit with an alluring spicy cured meat character.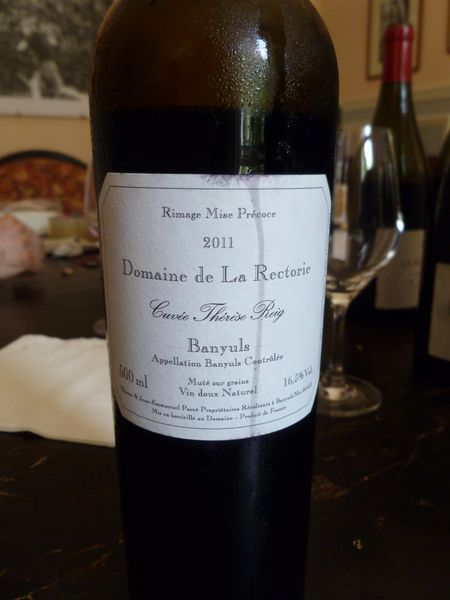 As well, a plethora of lovely Banyuls bottles was sampled, compounding the task of choosing a favorite. I was most impressed with the grenache-based 2010 Cuvée Leon Parcé (one year barrel age), which was very complex exhibiting notes of roasted nuts, caramel and spice, and a long sweet & viscous finish. Very intriguing though, was a Banyuls made in the "Rancio" style (literally 'rancid' in Spanish), the "Cuvée de Pedro Soler", which is allowed some oxydation, yielding a dry amontillado sherry styled wine - with eqally intense nutty character but perhaps a bit richer. On a side note: Pedro Soler is a local Flamenco guitarist and friend of the Parcé family (and a damned good one, based on the CD I was given!).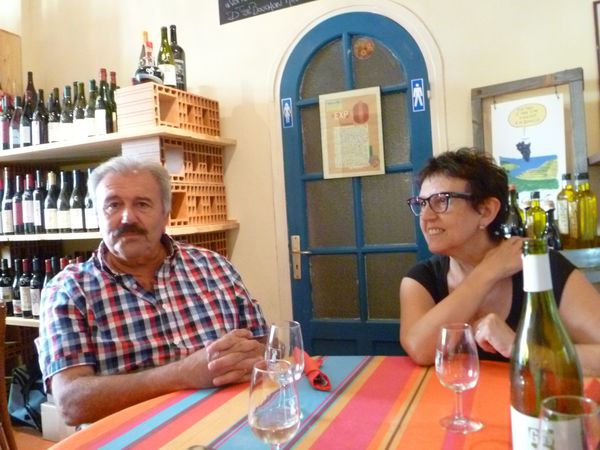 Lunch at Café El Xadic del Mar with Jean & Cathy
Following a light lunch at Banyuls most authentic (and all organic!) café, El Xadic del Mar, we made our way into the surrounding hills for a visit to Clos Castell. In stark contrast to La Rectorie, this is a very small family operation, nestled in the vineyard-covered hills above the village. It's owned by the amiable young Jean-Christophe Jose. Although the family's vineyards have a sufficiently old average vine age, one can quickly sense that they are just beginning to hit their stride in making and marketing their own product. All the wines tasted here (Collioure & Cote Vermeille) were well-made, if a bit on the extracted side, but it was refreshing to experience a vigneron who was so receptive to hearing our assessment of his wines. I couldn't help but feel that Jean-Chrostophe has a bright future ahead. He likely wouldn't have wanted to hear this: but my favorite red of his was a humble but incredibly authentic 2011 old vine carignan, Cote Catalan IGP. This wine touted the essence of rustic carignan, with intense ripe varietal character, leather & dust, with a lovely touch of cologne - a wine which could definitely benefit from some bottle age.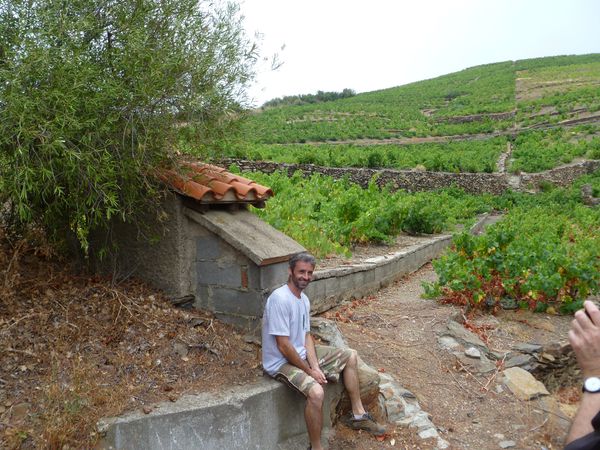 Jean-Christophe Jose below his vineyard at Clos Castell
After such a long day of concentrated, high-alcohol and (often) tannic wines, we were pleasantly surprised by a kind invitation from Michel Smith's friends (and former co-workers at Banyuls' co-op winery, Cellier des Templiers) Jean Mucciolo and his wife, Cathy Rousseil, for a casual supper at their Banyuls condo. It seems Jean had a friend who had brought in a good haul of rougeot barbet and merlan (whiting) after a day of fishing in the Mediterranean - so we were at the right place at the right time. A light hoppy lager followed by some crisp chilled white wine and fried fish sounded very enticing on this toasty August eve - and the wine picked to accompany our fish feast was a perfect match (even if it wasn't from the surrounding region) i.e. a light & lively 2010 chenin/chardonnay blend from Domaine St Nicolas in Brem-sur-Mer (Loire-Atlantique). Although maybe not soon enough, sleep came very easy after our arrival back in Perpignan.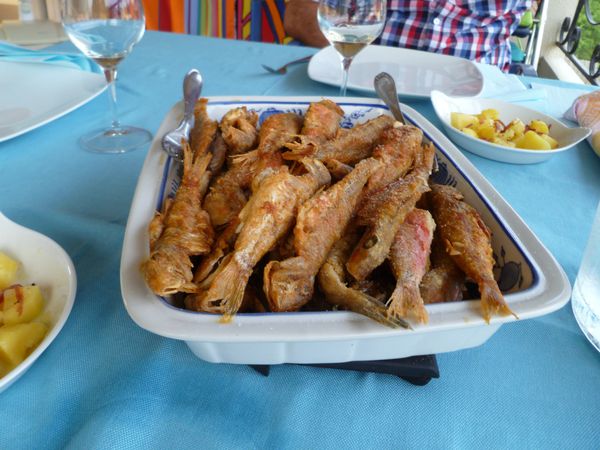 Rouget Barbet and Merlan: No utensils required here!
Note: Readers probably noticed that I've recently been omitting my wine review section of the blog. I don't intend to completely discontinue it, but have decided that it only makes sense to do thorough reviews of wines tasted when the wines are available in the American market (either in stores or on-line).