May 20 2013
2
20
/

05
/

May
/

2013
15:29
Let's return for a brief visit to the "Pays Catalanes" of Roussillon.

With friends and co-imbibers Randy & Lisa Harnisch, my wife, Mary, & I tasted three lovely reds from the Roussillon last month. I should warn you that this region will be reappearing in my blog posts frequently in the future, as it is a dynamic area of France in terms of "quality evolution" as well as inspired new vignerons seeking to produce authentic wines.

This was demonstrably apparent in our tasting, as the three red wines sampled were all stylistically unique, while at the same time of a comparably high quality level. Two of the estates, Domaine Vaquer & Domaine de Nidolères, are actually located in the same village (and the proprietors are good friends, as I've heard) - the village being Tresserre, in the Tech valley of South central Roussillon. The third, Domaine des Schistes, is located in the Côtes du Roussillon Villages section of the appellation further to the north and west.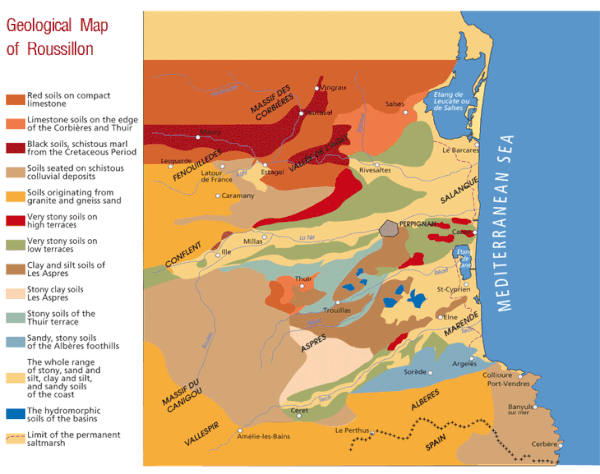 For a little background, although the two subregions share the same warm, dry Mediterranean climate of Roussillon, they do exhibit differing geological traits which give their wines distinctive characteristics. As mentioned in an earlier post, the Roussillon region is roughly divided into three distinct "terroirs" by its three small rivers: L'Agly (North), La Têt, (central) and Le Tech (South) - all of which flow from the mountains, eastward into the Mediterranean. One of the wines tasted, from Domaine des Schistes, of course makes no secrets as to the soil type of its estate vineyards - being located in the "Vallée de L'Agly" where dark schistous marl soils reign supreme. The other two domaines' vineyards are situated in "Les Aspres" (foothills of the Pyrenees) where the most common soil type is a clay/silt mixture.
The Wines:
2011 Domaine Vaquer "Cuvée Bernard Vaquer" $13, This is actually a "vin de pays des Côtes Catalanes", presumably because the vines are at least in part located outside the AOC Roussillon boundaries, as its grape varietal blend does meet the Roussillon requirements (in this case, ca. 1/3 each of syrah, carignan and grenache). Vaquer ferments in traditional enamel-lined cement fermenting tanks, and totally de-stems prior to fermentation - during which they forgo the traditional "pigeage" (punching down of the skin cap by foot or plunger) in favor of a gentler pumping over of the must. In this way, harsher tannin extraction is avoided, creating a suppler wine..... and this was evident in the result; although somewhat leaner than the following two wines, the Cuvée Bernard was quite elegant (a word not often associated with the region's wines) and with well-focused fruit. The wine showed a clean Bing cherry fruit character with hints of rhubarb, and a light smokiness.
2010 Domaine des Schiste "Les Bruyères" $13 (Côtes du Rousillon Villages), A somewhat more typical Roussillon red, with a hint of "barn yard" in the nose - but predominantly dark fruit aromas. On the palate the wine is rich and earthy with typical notes of dried herbs - and even what I'd describe as a hint of mushroom compost - of course, all in the background of dark, "cassis-fruited" primary flavors. A bold sturdy, yet velvety textured wine to match with hearty beef/lamb stews or any grilled meats. The varietal blend here is 30% syrah, 30% lladoner pelut and 40% carignan.
2010 Domaine de Nidolères "La Raphaelle" $21 (Côtes du Roussillon), This was the stand-out wine for me (and the price actually reflected the quality difference!). With an almost opaque color, this robust yet balanced wine exudes a complex mixture of cologne, dust, leather and spicy peppercorn. Definitely more in a traditional rustic style, this blend of predominantly mourvedre, with smaller quantities of carignan and grenache, has great structure and tannin, providing excellent potential for long-term aging. The estate also makes a majority carignan wine (not available locally) which I will definitely seek out on my next trip to the region!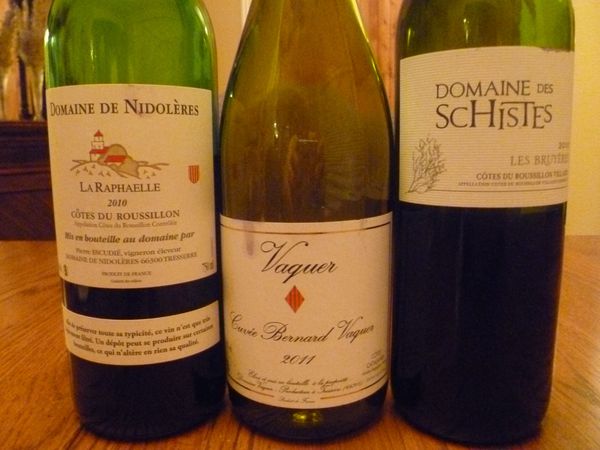 All of these lovely wines are available in select stores in Portland & the Willamette Valley - courtesy of Portland-based Phil Smith at P-S Imports, who specializes in the wines of Spain and Southern France (esp. Roussillon).
Happy Tasting - Russ