April 11 2012
4
11
/

04
/

April
/

2012
15:40
Requesting, and receiving, feedback on my blog from friends got me cogitating about the whole wine reviewing process again. In my 37 years of association (in one form or another) with the wine trade, nothing has been more thought provoking and vexing than the issue of how best - most fairly and most efficiently - wine tasters can critique a wine and convey this information to the wine consuming public. I mean, there are of course certain basic attributes - or lack thereof - on which most seasoned wine tasters can find consensus with a given wine, but when one gets into the distinctive terroir-related features of a wine, objectivity goes out the window and personal preference carries the day. e.g. one person's lovely wild herb character is the next person's green, unripe flaw. The increased production of natural and organic wines has made wine assessment all the more challenging (this is a good thing!). I'm certain that I'm not alone in constantly fretting over this or that tool or quality reference in the varied (and often convoluted) systems for judging a wine's worthiness and characteristics etc. I think for this reason, an approach that I once eschewed, i.e. group tastings, now seems to make more sense than ever. This is not to say that there won't always be a need and niche for individual reviewers. A single taster with a sensitive and experienced palate can often detect and relate the finest nuances in a wine's aroma and flavors which may strike a chord with certain readers - and if the reader actually reads the reviewer's text, vs. only their score (a by-product of our society's need for instant gratification), and then actually finds him/herself to be in agreement, then this reviewer may serve as a reliable wine-buying guide for the reader. On the other hand, in tasting with a (preferrably small) panel, it is possible to more equitably convey a wine's quality and value by virtue of consensus. This process allows for an open exchange of ideas about a wine's chracteristics (especially in the case of controversial wines) which in turn yields a more "refined" estimation of the wine's value.There is of course always the danger that such reviews and ratings can be "diluted" due to differences of agreement on certain wines & styles, but in these cases, the disagreements can merely be stated in the review, allowing the reader/consumer to make the final determination. Having stated this, the Parker-esque danger of one person's subjective palate dictating to the wine world what constitutes a good or great wine is much diminished with the advent of on-line wine blogging and reviews. It is no longer so difficult to find a wine reviewer with whom a consumer can find common ground in wine preferences.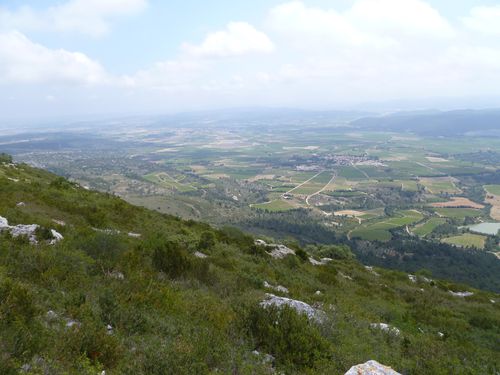 View Eastward from Mont d'Alaric, Corbières
All of this is a prelude to explaining changes I've decided to make in my wine rating methods for this little blog. Having already admitted to disliking the 100 point scoring system in my blog's description, I opted for a simpler 3-category system which I feel helps to minimize the effects of subjectivity in the scoring. By the addition of multiple symbols relating to specific aspects of a wine (texture, weight etc.) I felt that this would provide a more easily accessible overview for those not wanting to read through each review. What I discovered though is that it is difficult not to be redundant in the actual text of a wine description - hence the need to dispose of some of these symbols, instead, mentioning these features of the wine in its description/review. So, I will retain only the following "descriptive" icons: for the wine's overall quality evaluation,   to indicate a wine's organic status, to indicate an especially good value, and T to indicate a wine which is very typical & authentic expression of its region. This last symbol is one that I must use with caution as it requires some tasting experience in determining what constitutes typical character for a given region, arguably a never-ending learning process. It can be especially confounding in a region like Languedoc-Roussillon, where there are so many soil type, micro-climate and grape blend variations. I dare say that even the vignerons in the various sub-regions of the Languedoc would answer differently when asked to define typicality in their appellation.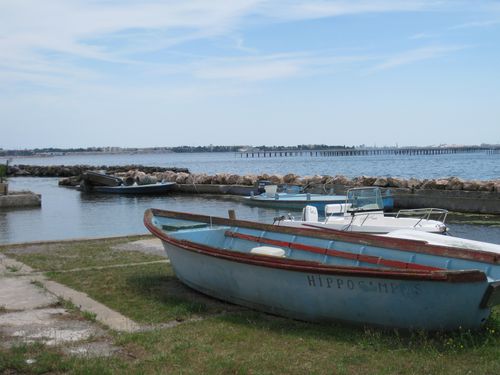 Oyster Beds in Bouzigues
I was also taken to task by a friend for not being "critical" enough in my wine reviews. My response: I'm not out to cover every wine I come across, trashing those that don't measure up. Rather, in order to limit the reviews to a reasonable number per posting, I simply don't intend to include wines that don't meet a minimum standard of quality/drinkability. although I may of course occasionally point out a wine's shortcomings.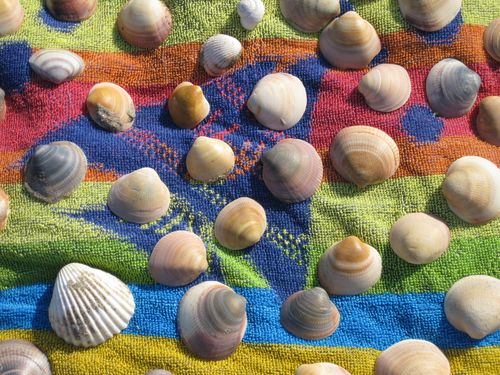 On the Beach near Sète
The end goal though, and indeed the impetus for my blog, is the quest to find good, natural & authentic wines priced at a level affordable to wine consumers with limited means. For this reason i'm rather ambivalent about "the discovery" of such wines by large international publications, as this often drives their prices up excessively. On the other hand i'm happy for those producers in e.g. lesser known appellations of S. France who can garner deserved accolades, since they often have trouble turning a profit in today's flooded wine market. My hope is that they exercise a measured response in their pricing policy, being careful not to alienate their most loyal client base. Thankfully, for almost every winemaker who becomes the darling of the wine trade  - with the accompanying price hike - there's a newcomer with solid & honest wines at a humbler price point. Which is of course why it's necessary to continuously stay in the hunt!
Trusty Vine's Revised Style/Quality Descriptors

This month's wine reviews focus on Minervois reds with a smattering of wines from other corners of Languedoc.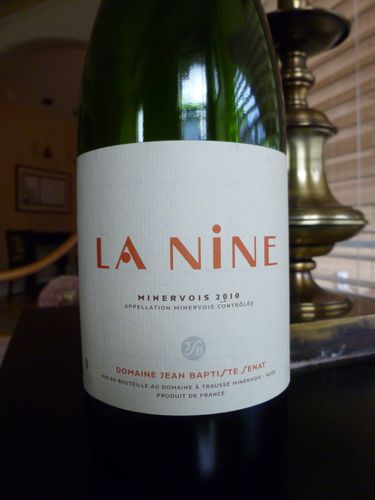 NV Brut J. Laurens "Clos des Demoiselles" Crémant de Limoux $17
I would like to have included this in last month's reviews but had committed to include it as the aperitif in a local tasting of Minervois wines (the next five wines reviewed below). As indicated above, this is a crémant which in Limoux means that the predominant varieties will be chardonnay & chenin blanc, with a 10% maximum of pinot noir. This particular cuvée is predominantly chard and it shows in the nose with lovely floral and pear notes - as well as on the palate with a creamy texture and hints of vanilla. The soft lingering finish has just enough acidity for a very nice balance.
2010 Mas des Mas Minervois $11
This was perhaps the most straight forward of the group. It showed nice balance and pretty berry fruit tones but could use a bit more structure and complexity. Nevertheless it was still pleasant and fairly typical of the region, and would make a quaffable wine for a lighter meal. 30% carignan, 40% syrah, & 30% grenache.
2010 Domaine des Homs "Paul" Minervois $15
Easily the most controversial wine of the tasting, this distinctive blend of syrah & carignan put some people off with its strongly reduced & smoky nose. With some aeration it began to evolve. Thankfully the aromas didn't persist on the palate, which showed very typical Minervois garrigue herbs with dusty overtones. Here is a wine that will definitely benefit with bottle age - very good structure and balance.
2007 Domaine Aimé Minervois $17
The ripe 2007 vintage shows well in this wine with its concentrated fruit and softer tannins. Fortunately the wine is quite ripe without being flabby. A nice touch of Rhone-like dustiness to complement the dark jammy fruit. A blend of 70% carignan and 30% syrah.
2007 Chateau Vaissière Minervois $16
This silky textured 2007 seemed to be at its best the night we tasted it. A hint of reduction in the nose & palate gave the wine a slightly rustic (and authentic) character. The wines subtle dried herbs and raw meat notes added to its appeal. Not so sure that I'd cellar this wine for long, but it's drinking beautifully at this stage. 80% syrah, 20% grenache.


2010 Domaine J-B Sénat "La Nine" Minervois $16
My personal favorite of the evening. Intense youthful dark brambly fruit - loads of black current with an interesting hint of orange rind and dry cured meat. All of this contained in a well-structured frame with great potential for aging. 40% grenache, 30% carignan, 15% mourvedre & 15% cinsault.
2010 Domaine Le Loup Blanc "Le Regal du Loup" Minervois ?
I experienced this estate's wines for the first time during my stint at ViniSud, and came away very impressed with their authentic nature. The above blend of 50% carignan, 40% grenache & 10% syrah, had very good depth and structure. The flavor profile tended toward brambly fruit with light spice and dried herbs. Should age very well.
2009 Domaine Le Loup Blanc "Les 3 P'tits Cochons" Minervois ?
With an estate name like "The White Wolf" I guess it's inevitable that one of your wines has to be called "The 3 Little Pigs". This wine shares many of the above's attributes, though with a slightly softer texture, as well as a bit more ripeness (prunes?) and a good dose of leather.
2010 Domaine de Barroubio "Jean Miquel" Minervois ?
This estate is best known for its Muscat de St Jean de Minervois, so I was surprised to learn that they also produce very nice dry reds. the 2010 above is 90%+ old vine carignan and this definitely shows in its concoction of aromatic wild herbs, with nuances of black current and a distinctive earthiness. The higher altitude of Barroubio's vineyards shows in the vibrant fruit character. The wine was reportedly fermented 50% using carbonic maceration and 50% traditional (total grape destemming and light crushing), and was aged for 15 months in mostly neutral oak barrels before bottling.
2010 Domaine des Aires Hautes Minervois $12
This estate and the below Clos de L'Escandil are both under the ownership of the talented and amiable Gilles Chabbert. This is is his "entry level" Minervois, but it compares favorably to his priciest bottlings - excellent fresh dark fruit character in the bramble/cassis vein. A very focused wine with no oak, nice tannins and a medium length finish. It's a blend of 25% syrah, 25% grenache, 40% carignan and 10% cinsault.
2009 Domaine des Aires Hautes Minervois-La Livinière $16
Similar characteristics to the above wine with the addition of light vanilla/oak aromatics (14 months aging in barrel with a small % of new oak). Very nice balance of brambly & garrigue fruit with the oak component, and soft tannins. 45% syrah, 30% grenache, 25% carignan.
2007 Clos de L'Escandil Minervois-La Livinière $24
The pinnacle of M. Chabbert's cuvées, this complex and brooding wine has loads of dark cassis fruit and the richness/structure to back it. Moderately oaked with notes of camphor and mint - and a long viscous finish. 40% syrah, 20% grenache and 40% mourvedre.
2009 Chateau Vaugelas "Le Prieuré" Corbières $12.00
Upon first opening, this moderately priced Corbières showed a somewhat muted nose of pleasant spice  and plums, which intensified with aeration. This also brought out some of the secondary aromas of herbs and dust. On the palate the wine was medium-bodied and nicely balanced, if slightly simple. Typical garrigue herbs are evident as well as an interesting (almost pinot-like) beet character. The sufficient fruit acid should make it a versatile food wine. 35% syrah, 30% grenache, 30% carignan, 5% mourvedre.