June 5 2012
3
05
/

06
/

June
/

2012
18:10
By this time in June, wine consumers are usually facing a barrage of articles and reviews on rosés. This is of course not by accident since late spring is the traditional time for wineries to release their past vintage's rosé wines. What's a bit puzzling/humerous to me though are the numerous articles proclaiming the "coming of age" of rosés, as if they were just created within the last decade. It is true that in recent years the higher quality of rosé (even from regions not previously known for this genre) has helped boost it's popularity - and conversely, that the popularity and increased demand for good rosé has given incentive to wineries to boost their production. But rosé has been produced for eons, albeit in earlier times, not always by design. For example most wine drinkers would be surprised to know that in the 18th century, Burgundian vintners only left their fermenting juice on the grape skins for a few days before pressing, yielding a wine that more resembled a dark rosé than a red wine. This is considered as well to be the method of the Greeks who colonized the area around Marseilles, France in 600 BC, perhaps being the start of a long tradition of excellent rosé winemaking in the surrounding area we now know as Provence. It was however the Southern Rhone region of Tavel which gained renown especially in the 19th & 20th centuries as the only wine region to produce high-quality rosé wines exclusively, using primarily the varieties, grenache & cinsault. Naturally, in these times, the Provencal & Loire valley growers would dispute Tavel's claim to the "rosé throne". The fact though is that in the last 10-15 years, wine regions across the globe (but especially in southern Europe) are making beautiful dry rosés, given the right varietals in the right site with the right techniques.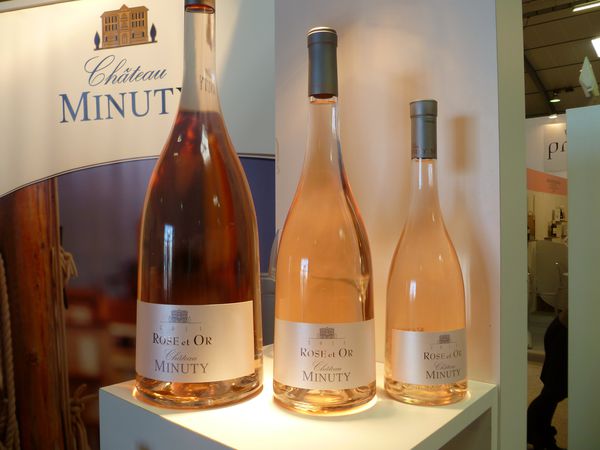 Bottle Sizes for Serious Rosé Drinkers at ViniSud 2012
It's hard to imagine that it wasn't so long ago that in the U.S. wine market at least, rosés were often looked down upon condescendingly - and for legitimate reasons: i.e. the memory of semi-sweet Mateus & Lancer's rosé in the 60's/70's followed by the often cloyingly sweet white zinfandels and blush wines of the 80's did much to damage the positive perception of rosé among consumers. By comparison, today, rosé drinkers find themselves in a virtual paradise, with excellent choices at every turn. These are by contrast, aromatic and finesseful wines fermented bone-dry mostly in the style of Provence. As a side note it should be mentioned here that there are essentially two (legitimate) ways of producing rosé: one (as described above) in which red grapes, after crushing are allowed to soak with the juice for anywhere from 24 hours to 3-4 days before pressing, thus allowing the juice to absorb varying degrees of pigment from the skins. The other, most common method, is to simply bleed off (saignée) a percentage of juice from a vat of crushed fruit at some point after at least a 24 hour soak. A third method, which is not permitted for 'true" rosé in most European wine regions, is the actual blending of red and white wines to achieve a rosé color.
So what's so unique about rosé? Well, apart from the obvious color difference, there are delicate aromatics in rosé wines which seem not to occur in red or white wines: e.g. the tropical fruit esters like banana and melon, or brighter fruits like raspberry. These are evidently the by-products of a cool fermentation of juice containing small amounts of anthocyanins from red skin pigment. Naturally, the nuances of the aromatics and flavors vary depending on grape variety, but are still good benchmarks for typical rosé.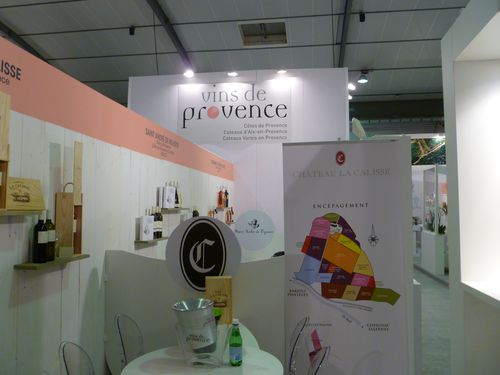 "Pretty in Pink" Provence Hall at ViniSud 2012
As with any wine there are some misconceptions about "rosé etiquette". For example, one often hears that rosé should be drunk within a year of bottling to appreciate its freshness. Although this may apply to many lighter-styled wines, there are several examples, like the sturdy mourvedre-based wines of Bandol, which may improve nicely over 3-4 years in bottle. Another "unspoken rule" is that rosé is best drunk with "less serious" foods - especially barbecue - and preferrably outside in the summer months. I won't argue that many of these such occasions seem to cry out for a rosé, but I'm equally happy indulging in a good rosé in the middle of the winter with, say, a nice roast pork or chicken dish. Good rosé is to me perhaps the most versatile of all wine types (along with sparkling?) when it comes to food pairing. So here are some recently tasted rosés from the south of France and Spain, that I feel are representative of their genre - for now.......or even next December.
June Wine Reviews: French (and a few Spanish) Rosés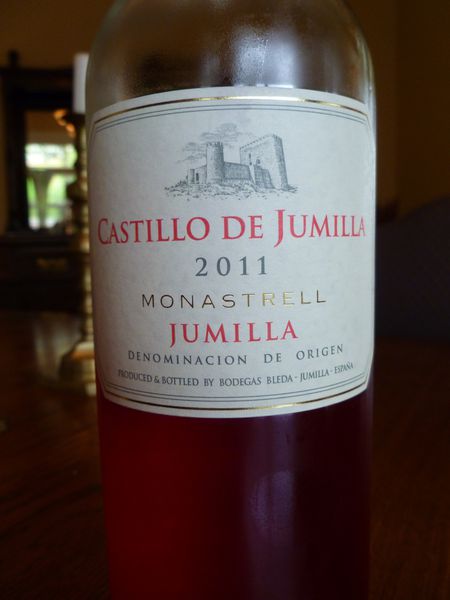 2011 Ch. La Rouvière Rosé, Bandol $27
This lovely salmon-pink rosé is made by Domaine Bunan, and is composed of around 50% mourvedre, with the remainder, grenache and cinsault. Intensely floral nose with citrus notes, and ample canteloupe fruit on the palate. A rare wine that is at once both concentrated and elegant. Very nice structure which bodes well for a few more years in the bottle. Would also make a very versatile food wine.
2010 Domaine Bunan Rosé "Bélouvé", Côtes de Provence $17.50
Made predominantly from the same varieties as above, but with the addition of some cabernet sauvignon & syrah. The flavor profile also resembles the Rouvière, yet exhibits a bit more grapefruit in the nose (à la New Zealand sauvignon blanc), and a subtle rose floral note. Very refreshing, with good acidity and a clean finish. A good choice for sushi or any shellfish dish.
2011 La Bastide Blanche Rosé, Bandol $22
Made predominantly with Mourvedre, with smaller proportions of grenache and cinsault. A classic delicate Provence rosé with a mélange of spicy tropical flavors as well as a dose of strawberry. Somewhat lighter on the palate than the two above wines, with a slightly more marked fruit acid.
2011 Ch. Minuty "Rosé et Or", Côtes de Provence, St. Tropez $22
This is the pick for lovers of crisp and zesty French rosé. Excellent fruit acid and balance, with strong notes of peach, raspberry, and (above all) grapefruit. Delicate but not "wimpy', this wine would do fine all by itself on a warm summer evening.
2011 Ch. Routas Rosé, Coteaux Varois, Provence $13
Made with cinsault and syrah, plus smaller portions of grenache and cabernet sauvignon. In my mind this may be the best value in Provence rosé currently on the market - at least in my local market. Loads of citrus zest and strawberry aromatics. On the palate, a nice balance of lush fruit and tangy acidity, with more strawberry, and hints of anise & pepper.
2011 Domaine Gros Noré Rosé, Bandol $33
I tried to fault this beautiful wine for its 14% alcohol, but in reality it had a great overall balance due to the profound core of luscious fruit. Intense ripe melon and grapefruit ester aromatics, followed by more of the same plus pear & mango on the palate. A dense and robust rosé with a long viscous finish, and enough acidity to spare it from flabbiness.
2011 Chateau de Lascaux Rosé, Coteaux de Languedoc $17.50
This was surely the most unique of the French rosés we tasted, showing an unusual sweet/sour dill character on the nose, but together with more typical notes of raspberry & melon as well. Perhaps it was the influence of the surrounding garrigue herbs we were sensing. Otherwise, the wine displays nice balance with a clean crisp finish.
2011 Ch. de Trinquevedel Rosé, Tavel (Southern Rhone) $20
From France's only exclusively rosé producing region comes this distinctive blend of (mostly) grenache,  clairette & cinsault. Noticeably darker pink than its Provence cousins, this is likely due to longer soaking of the juice on the skins prior to pressing. More "forest" herbal & earthy than tropical in its aromatics, while the fruit character tends more to the darker berry side, with an interesting nuance of red bell pepper. An intense wine with good grip showing potential for near-term aging. 
2011 Domain de la Ferrandière Grenache Gris, Pays d'Oc $15
Of all the rosés covered here, this is the only one that is actually fermented on the skins (at a low temperature), as we're dealing here with a light skin color variety (think pinot noir vs. pinot gris). Plenty of aromatic melon esters on the nose, and a nice balance of texture and softer fruit acid on the palate. A good value and pleasant quaffer.
2010 Ch. L'Ermitage Rosé, Costière de Nîmes $11
Another good value quaffer made from 50% syrah, 30% grenache and 20% mourvedre. Fine tropical melon notes in the nose, and plush on the palate. For my taste it could perhaps use a touch more fruit acid.
2011 Castillo de Jumilla Rosado, Jumilla, Spain $8.50
Don't be scared by the price, this is a surprisingly nice quaffing rosé made from 100% mourvedre. Like the Tavel above this was a darker tone of pink than most we tasted (mourvdre is a darker skinned varietal). Ripe red raspberry fruit on the nose and palate, with hints of pepper. Certainly not as subtle as the above wines, but still nicely balanced and with a silky texture.
2011 Espelt "Corali" Rosado, Emporda, Spain $13
This 100% grenache rosé shows lively grapefruit rind aromatics with hints of melon and mango. Very nicely balanced with a fleshy texture and good acidity to balance it. Displays an interesting tangy and slightly "salty" character (à la Manzanilla sherry?). Very refreshing.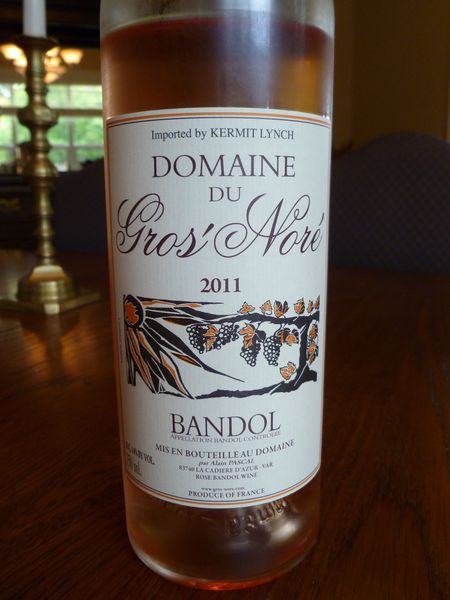 Rating and Description Symbols