March 14 2013
5
14
/

03
/

March
/

2013
17:23
When I saw this piece by Hervé Lalau, wine blogger on the site "Les 5 du Vin", and colleague of my friend Michel Smith, I just had to translate and post it here. Besides, the restaurant he reviews is one with which I'm quite familiar. This has long been one of my pet-peeve wine issues, and I felt that Hervé cited an excellent example of how restaurants can lower their wine prices and remain very profitable. Thank you M. Lalau for graciously granting permission for me to republish this on my blogsite.

It is interesting also to note that this is not just an American topic of contention among wine consumers. Nudging restaurants to implement a more customer-friendly wine pricing strategy can be an uphill battle in most any wine-consuming country, especially since wine has been traditionally viewed by so many restaurateurs as a "money-maker". Perhaps it's an oversimplification of the problem, but I still believe in most cases, that by lowering their wine margins, a restaurant would make up for lost profit per bottle by the resulting increase in their sales volume. Granted, this may be more challenging for a small bistro than a larger restaurant, but it still should be doable for them even if not so substantial a price reduction as that indicated below. I should also note that Les Grands Buffets is not necessarily your average wine-oriented restaurant, as it is quite large, and attracts many out-of-town visitors who are there to taste the local wines. So here's his article:

As the title states above: "Yes, we can do better", much better than taking 300 to 700% margins on wine for compensation.

-Firstly, one needs to offer dishes at a price that assures profitability for the restaurant (it is after all for eating well that one dines out)

-Secondly, with exhorbitant mark-ups on wine, a good number of customers won't drink much wine, or at best will only order the cheapest bottle on the list. And if marked too high, they may sometimes prefer to drink water.

Overhead, inventory expense and taxes are easy scapegoats, but a wine inventory that "turns over" better (i.e. more quickly) will of course be more profitable.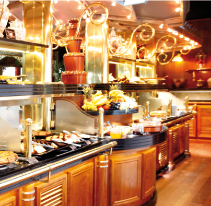 And I can prove this point with "Les Grands Buffets" restaurant in Narbonne.

The location of the place is somewhat improbable, next to the municiple swimming pool, in a commercial zone at the entrance to the city - plus the exterior is not much to look at; but in terms of the quality of the products, selection, hospitality, decor and service (notably even with a special area for children)..... the presentation is very meticulous. And the restaurant can handle up to 1200 diners per day, with its outdoor terrace seating included.

However it's not about all this that I'm here to talk to you, rather about their wine policy: the restaurant, whose cellar specializes in the wines of Languedoc and Roussillon, sells you wine (100 selections) at the winery's retail price.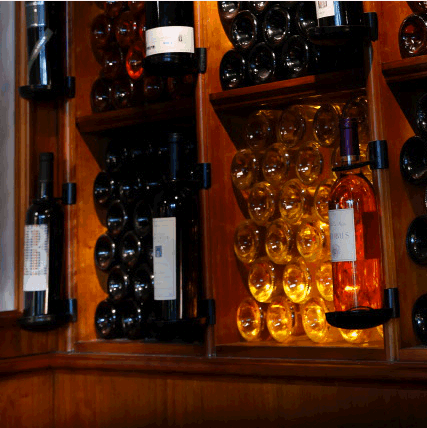 Better yet, customers who order a carton of 6 bottles of any one wine that they've drunk at table, find themselves being offered that bottle gratis! And there is always a sommelier there for advice - who also tends the wine bar in the basement (an old bowling alley where one can find without a doubt among the best 'pins' in France).

But how is this possible? What's their secret? What more are they doing than other restaurateurs?

Curiously, when Monsieur Privat, the owner, explains his formula to his colleagues, he hardly convinces them. Is it that they have a different concept of book-keeping? His figures are telling nevertheless: On the day when he began to apply the winery retail price to his wines, his wine turnover increased by 50%! And since then, the price per bottle of wines ordered has increased continually.

I was able to confirm with my own eyes that at all the tables surrounding mine, the diners were consuming one or two bottles per table - something becoming rather less frequent in the France of today. The crisis that one so readily invokes to explain price-cutting of wines in the restaurant, would it have spared Les Grands Buffets? No, it's just that the "Narbonnais" diners know how to count.

The worst though, is that certain vintners refuse to even deliver to Les Grands Buffets, for the reason that their wine would appear too cheap on the wine list, which would (supposedly) alienate other restaurants in the area.

Let them do it their way, I'll just drink other producers' wines, and when I pass through Narbonne again with the family, I know where I'll be eating.....