December 7 2013
7
07
/

12
/

December
/

2013
19:18
So as not to be misinterpreted, I should explain that, by "sides", I mean literally or physically here: i.e. the east bank and the west bank of the Rhône River. I discovered this past June that even with only two tastings scheduled in the area north of Avignon, there's no quick way to drive from the village of Gigondas to St Gervais - even though they're not so far apart "as the crow flies". It's just that there aren't very many small highway bridges across the Rhone when you need them. Thankfully, apart from a lot of convoluted driving to reach my destinations, I had two great visits that more than made up for the minor inconveniences.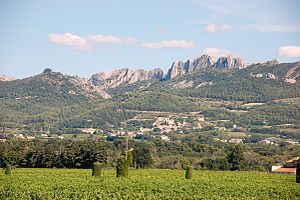 Les Dentelles de Montmirail (just uphill from Gigondas)
My first stop was at the respected producer, Clos du Joncuas in Gigondas. There I was warmly received by the lady who "wears all the hats", i.e. winemaker, marketing person etc., Dany Chastan. I should add though that Dany's sister, Carole, does help out part-time with sales & marketing. Joncuas' flagship wine is their Gigondas, but they produce excellent reds as well from the villages of Séguret under the Domaine de la Garancière label, and Vacqueras under the label "Font de Papier". I was first acquainted with these wines at a "Return to Terroir" tasting in San Francisco in 2007 - which (if you're familiar with this organization) might tip you off that Dany's operation is managed organically. Visiting Clos du Joncuas was a welcome confirmation for me that all their wines are produced with an eye towards their typicality by site, resulting in very authentic expressions of their terroir and grape varieties. I guess I should mention that I'm somewhat prejudiced in favor of the commune of Gigondas vs. other southern Rhone wine-growing villages. Maybe it's the awe of the jagged and impressive "Dentelles de Montmirail" mountains in the background (which are responsible for the regions dolomite limestone and gypsum soils), but I've long considered Gigondas to be the equal of its more famous neighbor to the South, Chateauneuf du Pape (and at a morer reasonable price!). They are admittedly different in nature, but in terms of sheer quality, I've always felt Gigondas deserved equal footing.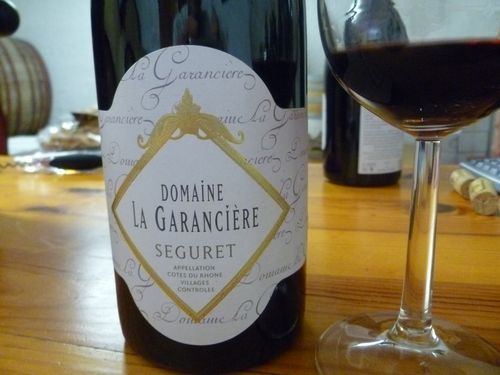 Dany poured me three lovely vintages of Gigondas: 2005, '06 and '07. I have to admit that although Joncuas' reds aren't the least expensive of the region, considering both their high quality and the fact that they're held in bottle for some time prior to release, I find them very fairly priced. All three of the above wines shared their site's rustic characteristics of leather, dust, spice and dark plummy fruit, yet with a refined texture. But of course the phenomenal 2007 vintage stood out with its great depth, intensity, and long finish. I personally found her Vacqueras and Séguret to be very similarly styled, only with a tad less viscosity. For those looking to try an exemplary village-designated southern Rhone, I can highly recommend the Séguret, especially for both its typicality for this village and its good value.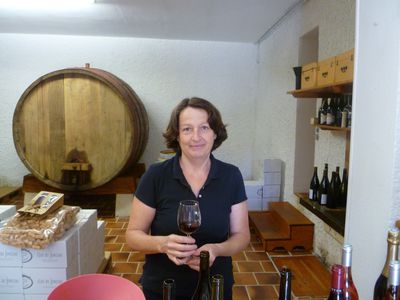 The "face" of Clos du Joncuas, charming Dany Chastan
After grabbing a quick lunch in neighboring Orange, I moved to the west side of the river to Domaine Clavel, in the village of St Gervais, quaintly nestled behind a ridge of the Cevennes hills. Unlike Clos du Joncuas, Clavel is a "family affair", i.e. each of the three family members manages a different aspect of the estate. Mother, Françoise is the winemaker, father, Denis tends the vines, and daughter, Claire, does the marketing. It was Claire who greeted me at my visit (I had actually gotten to meet her and Françoise at ViniSud Montpellier in early 2012, so I wasn't a stranger). Unfortunately my visit was just a day after they held an art exhibition (with wine & food of course) - featuring regional artists. But fortunately, most of the works were still on display when I arrived, so I still got more than I'd bargained for.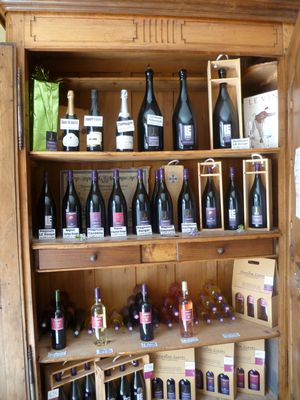 The Clavel "Line-Up"
Besides the difference in soils (the St Gervais area has mainly limestone-clay), it was clear to me that Domaine Clavel and Clos du Joncuas also have two different "business models". They're both quite successful in their own ways. While Joncuas is more low-key, Clavel is perhaps more "extroverted" and more focused on retail sales at their tasting room. In terms of their wine selection, Joncuas offers primarily AOP village-designated wines, whereas Clavel does as well, but with the addition of some special blends and cuvées that use varietal blends that aren't "sanctioned" by the Côtes du Rhone AOP regs. i.e they seem to be a bit more experimental and less conventional. Also unlike Clos du Joncuas, they are also producing a larger volume, allowing them to offer more wines at a somewhat lower price point.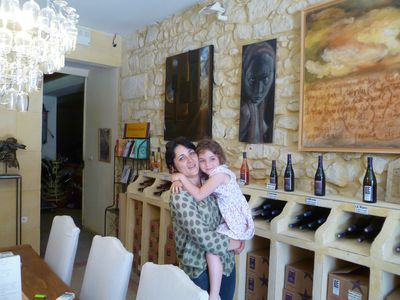 Claire with her lovely daughter, Lou Anne

E.g. Domaine Clavel makes, in some vintages, a very impressive pure carignan bottling - and although as such, is not approved under the AOP regs, it frankly doesn't need those "niceties" for enjoyment. It was enlightening to find that this wine, 2007 "Berger", had such identifiable carignan characteristics, like garrigue herbs and dried hemp, yet was distinctly Rhone as well, with it's leathery, dusty nuances. The other difference I found more evident was the silky texture of the wine, providing for a long rich finish. Their Côtes du Rhone blend, "Regulus", is a very quaffable, and good-value wine for every day drinking - a blend of predominantly grenache with syrah, cinsault & carignan. It's a bright-fruited wine but with good intensity and with notes of spicy white pepper & cassis.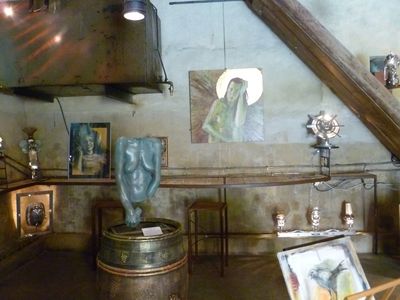 Cool art on display at Dom. Clavel
It's this kind of diversity within the Rhone Valley's numerous sub-regions, which make them all the more fascinating, beckoning hearty wine lovers to keep coming back.
À Votre Santé!
Russ