April 2 2014
4
02
/

04
/

April
/

2014
23:28
After my memorable, but "unfinished" journey to the 2012 ViniSud in Montpellier, nothing could keep me from returning for this year's 3-day event in late February. Unfinshed, due to the fact that I was not quite prepared the first time around to use my time efficiently enough to include all the wines I'd hoped to taste. This time though, I did my homework and managed to visit all the domaines on my "A" list, plus numerous other pleasant surprises (with the help of friend and Languedoc guru, Michel Smith). What can one expect though, when one considers that over 1600 producers were on hand to pour, of which many were offering 10+ different bottlings! I would of course love to be able to include the "MillésimeBio" organic/biodynamic wine event held one month earlier in the same exhibition park, but I don't think my wife, Mary, would be too excited about my taking a six week vacation to France without her. In order to get beyond the jet lag before the event, I arrived four days early, which also allowed me to take some side trips to visit a few estates who chose not to attend ViniSud....more on that in upcoming posts.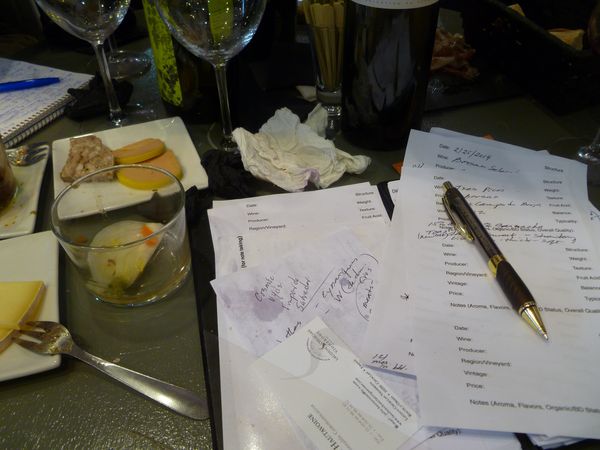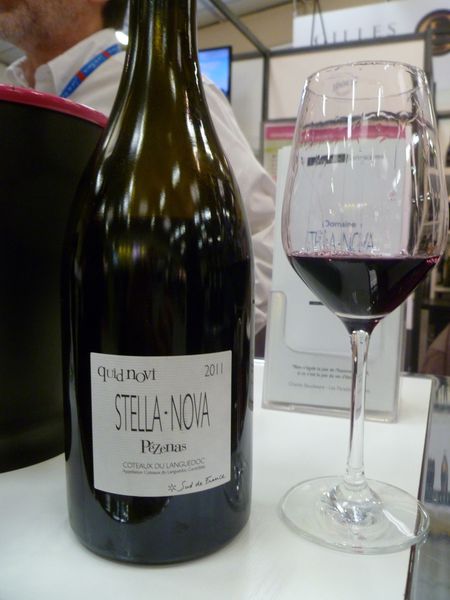 Having been bitten by the carignan bug, thanks to Michel, the first item on the agenda was an enlightening seminar and tasting of carignan cuvées on the first morning. The purpose was mainly to expose attendees to the diversity of styles and the ever-evolving high quality of the varietal. Not unexpectedly, there wasn't perfect agreement on the standouts in the group - but most importantly, there were no disappointments in terms of quality and style. That said, I had two clear favorites: 2012 Le Champ des Murailles, recently purchased by the well-known Ch. Ollieux-Romanis (this wine contains small amounts of mourvedre & grenache), and the 2011 Lo Vieilh from Domaine Clos du Gravillas. The latter, owned by the energetic and talented Kentucky transplant to Languedoc, John Bojanowski.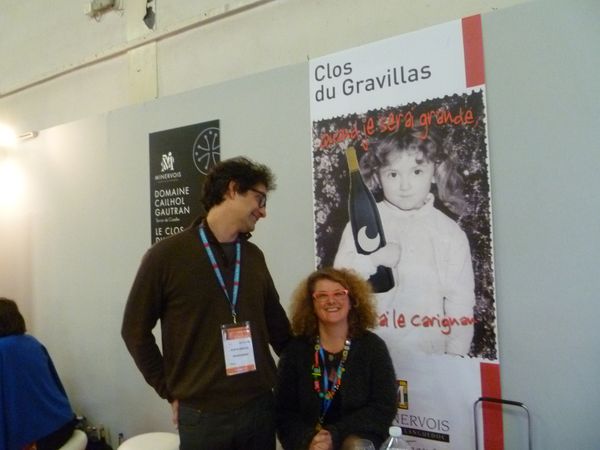 John Bojanowski and his wife with a winning smile, Nicole
Unlike my 2012 ViniSud experience, I managed to broaden the horizons a bit to take in some fascinating wines from appellations in France's Southwest, an extensive tasting of the beautiful Bandols from Ch. Pibarnon, and a rewarding revisit of an exceptional co-op type producer in the Luberon region (North of Provence), Marrenon. In the case of the Southwest, I had to revise my somewhat negative attitude towards negociant producers, after an impressive tasting (along with some wonderful small dishes!) with the friendly and knowledgeable staff at Lionel Osmin & Cie. based in the village of Morlaas, near Pau. This company seems to have writen the book on intelligent selection of regional wines along with "personable" marketing.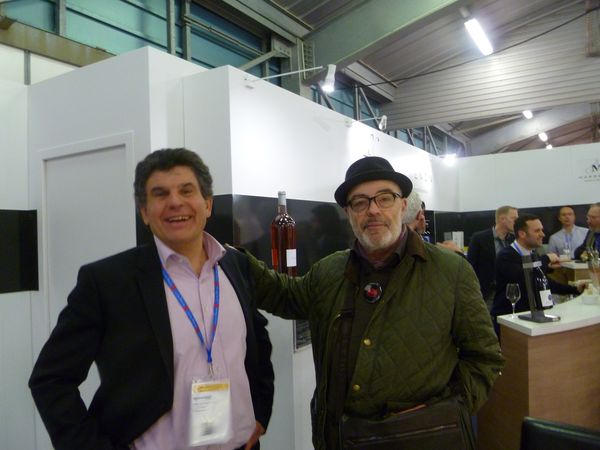 "Mr. Carignan" (aka Michel) with "Mr. Marrenon"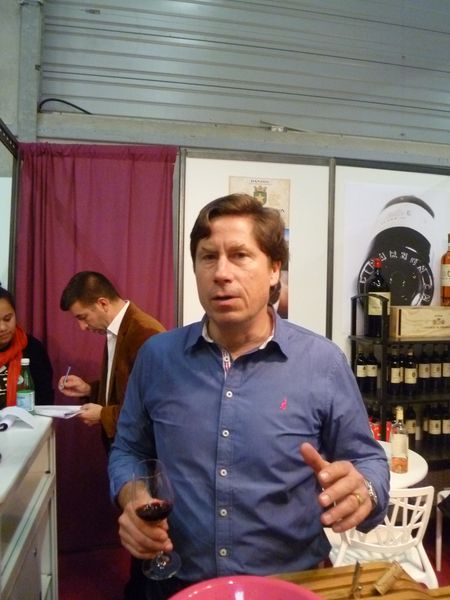 Eric de Saint Victor, Ch. Pibarnon
Following is a list of my faves tasted from southwest appellations:
Domaine du Cros " Vieilles Vignes" 2013, Marcillac. Classic wine from the esoteric SW grape, fer servadou. Delicate yet intense, and reminiscent of good cabernet francs from Chinon or Bourgeuil.
Ch. Aydie, Madiran 2010, 2011 & 2012. These were all blends of cabernet franc and tannat, and exhibited lovely spice, flavors of cured meat and great balance between tannin and rich texture. They were also very fairly priced.
Domaine Le Roc "La Folle Noire d'Ambat" 2012, Fronton. This wine, 100% from the indigenous négrette variety, had an almost carignan like earthy "funk" (the positive kind!), with a silky texture and a ripe herbal character.
Lionel Osmin, Jurançon Sec 2011. A lovely dry Jurançon, produced from the two indigenous white varieties, gros manseng and petite manseng. The result yields a beautiful baked apple/cinnamon character, rich yet with tangy citrus highlights and a touch of vanilla (from light oak?).
Lionel Osmin, Rosé of Négrette 2013, Fronton. Extremely aromatic rosé with strong banana esters together with a nice balance of richness and fruit acid.
Lionel Osmin "Chambre d'Amour" 2012, Vin de France. This multi-appellation (SW) bottling is ca. 75% gros manseng and 25% sauvignon blanc, and is a perfect summer quaffer, being medium-sweet with only 10% alcohol and lively acidity.
As for stellar stand-outs from other regions, here's an abreviated list (it would be too exhausting to include all the wonderful wines experienced):
Ch. Pibarnon, Bandol 2001. I was overwhelmed by all the vintages that owner, Eric de Saint Victor poured for us, but this was perhaps the most classic of all for its appellation. Beautiful silky texture with notes of spicy tobacco and "raw beef". It happens also to be Eric's favorite vintage of the decade.
Domaine St. Andrieu "Vallongue" 2010, Montpeyroux. Although, I'd have to say that Domaine D'Aupilhac would be my standard for camparison in this small higher-elevation region of the Languedoc, this estate ranked right up there with them in this majority carignan cuvée (with some grenache). Lovely aromas & flavors of cassis and hemp (my carignan "marker") while not too extracted - nice silky elegant texture with sufficient fruit acid.
Stella Nova "Quid Novi" 2011, Pézenas/Languedoc. Another carignan blend (90%, with 10% grenache), this wine is definitely made for a serious carignan devotée, with deep, dark fruit, a hint of hemp, great structure (needs time) and a long rich finish.
Clos Canos "Tradition" 2010, Corbières. This was perhaps the best value carignan blend I came across at ViniSud - at around $10/bottle. Very nicely balanced, with classic aromatic hemp and cassis notes and vibrant acidity, making it an excellent food pairing wine. (sidenote: The owners here, Pierre & Françoise Galinier, are cousins of my friends and Corbières vignerons, Roland & Isabelle LaGarde at Roque-Sestière)
Marrenon "Grand Marrenon" 2011, Luberon. I could easily have mentioned all of this producer's impressive wines, but this was perhaps the apex wine of the group. A 70% syrah-30% grenache blend, it was very complex and aromatic, with tobacco-like spiciness and a velvet texture, making for a long finish.
Ch. de Beaupré Rosé 2013, Coteaux d'Aix en Provence. A pretty grenache-syrah rosé with very fresh and crisp fruit character - predominantly strawberry and pear tones. The lively fruit acid would make it a great aperitif or light seafood wine.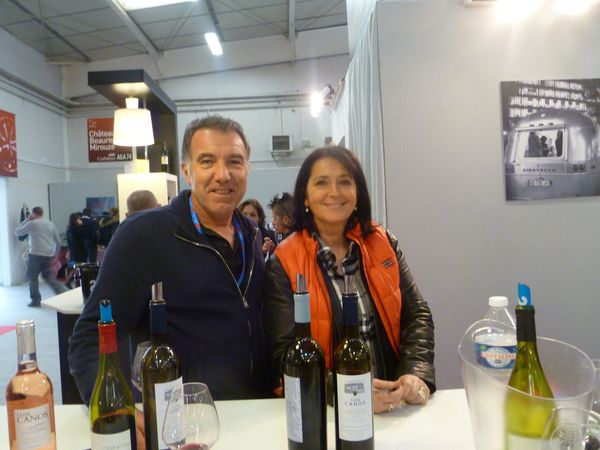 Pierre & Françoise Galinier of Clos Canos
You may notice that I didn't include any Rhone wines above. I'm a big fan of S. Rhone wines, especially those from Gigondas and surrounding communes like Cairanne, Rasteau etc. During this visit however, I opted to focus my time on other regions which I "shortchanged" on my last trip. As eluded to above, it's simply impossible to make the rounds to every booth in the event, but I'm content that I made (most of) the right choices this time!
À Votre Santé,
Russ